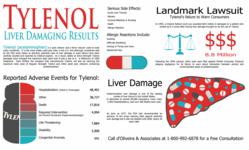 (PRWEB) May 16, 2013
Tylenol (acetminophen) is an over-the-counter drug used to reduce pain, fever, and a variety of other symptoms related to allergies and illness. Tylenol was originally approved in 1951 and was first marketed in 1953 (i). It is manufactured by McNeil Consumer Healthcare, which is now a subsidiary of Johnson & Johnson. The FDA has issued warnings that the acetaminophen class of drugs may cause liver damage in some cases and the agency has even taken steps to limit the dosage of these drugs (ii). In January 2011, the FDA limited acetaminophen products to 325 milligrams per dosage unit. The agency also included a black box warning about the "potential for severe liver failure (iii)."
Since its introduction to the market Tylenol has faced challenges in the form of lawsuits. According to The New York Times, McNeil has faced lawsuits for its failure to warn about mixing alcohol with the drug and failing to adequately warn about the risks of taking high dosages of Tylenol (iv). These lawsuits assert that Tylenol caused liver damage. Tylenol like all drugs is removed from the human body by the liver. When Tylenol is taken in high doses or combined with other drugs it can pose a risk of liver damage (v).
The Tylenol infographic illustrates side effects and statistics regarding the drug. The new informational graphic is part of d'Oliveira & Associates push to spread consumer awareness of medical products. Learn more about Tylenol by visiting the webpage and viewing the infographic: Tylenol Infographic.
If you or a loved one has suffered Tylenol injuries, you may want to speak with a personal injury lawyer regarding a potential claim. The lawyers at d'Oliveira & Associates are familiar with the new developments of this drug and we may be able to help you make important personal and legal decisions. Our law firm is working with some of the more experienced Tylenol lawyers who are handling these cases. Contact the law offices of d'Oliveira & Associates, P.C. at 1-800-992-6878 or fill out a contact form for a free legal consultation.
(i) fda.gov/downloads/AdvisoryCommittees/CommitteesMeetingMaterials/
Drugs/NonprescriptionDrugsAdvisoryCommittee/UCM255306.pdf
(ii) fda.gov/Drugs/DrugSafety/InformationbyDrugClass/ucm165107.htm
(iii) fda.gov/Drugs/DrugSafety/ucm239821.htm
(iv) nytimes.com/1997/11/15/us/fda-wants-to-alert-drinkers-to-aspirin-and-tylenol-effects.html
(v) fda.gov/forconsumers/consumerupdates/ucm168830.htm