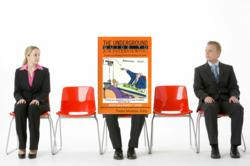 Los Angeles, CA (PRWEB) May 10, 2013
The latest employment figures may be trending positive, but they mask long-term softness in the job market, according to some economists. With a slower-than-usual recovery and a backlog of more than 19 million unemployed still firmly on the nation's radar screen, some economists are forecasting an essentially "jobless recovery" for some time to come.
Fortunately, job seekers have a new tool at their disposal. With the recent release of the revised and expanded second edition of "The Underground Guide to Job Interviewing: a Quick and Irreverent Primer for the Busy Job Seeker," veteran recruiter Todd Moster provides a breezy, yet deadly practical roadmap to success for job candidates preparing to interview.
"The good news is that the economy has finally moved into recovery mode," says Moster. "But the bad news is that the job market is more cut-throat than ever, with an increasing number of candidates competing for a shrinking number of jobs. Fortunately, there are techniques for effective job interviewing of which many job candidates are not aware. Those who learn and practice the rules for success will be way ahead of the game."
Described by Kirkus Reviews as "[A] conversational primer that offers calming, common-sense advice about a particularly stressful part of the job search," the second edition builds on the positive reception and suggestions given by readers of the first edition, who propelled the book into Amazon's Top 10 Best Seller List in the Job Hunting category.
"The first edition of The Underground Guide was geared largely to candidates seeking positions that required special training, such as the legal and accounting professions," said Moster, a former trial attorney who became an executive recruiter in 1998. "But as readers pointed out, people in every type of occupation can benefit from good interviewing skills -- not to mention students seeking admission to college, international travelers applying for visas, and business people qualifying prospective clients and investors. The second edition covers those additional areas."
Priced intentionally low to make them accessible to as many readers as possible, Moster expects both the paperback and Kindle versions of the new Underground Guide to be as popular as the first edition. And a special, upcoming promotion by book retailer Amazon for the Kindle version stands to dramatically extend the book's reach. For a three-day period starting on May 10 and ending on Mother's Day, May 12, The Underground Guide to Job Interviewing will be free to readers who download the Kindle edition from the Amazon.com.
"Both the legal and executive recruitment professions have been financially rewarding over the years, says Moster, "but my highest level of satisfaction always came from changing clients' lives for the better. I salute Amazon for its generous three-day promotion that will put the Kindle version of The Underground Guide to Job Interviewing in as many hands as possible."
More information about The Underground Guide to Job Interviewing and its author is available at http://www.theundergroundguide.com.