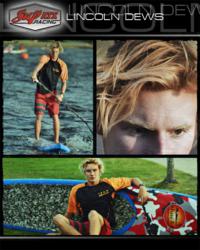 Queensland, Australia (PRWEB) May 12, 2013
Lincoln Dews is no stranger to competition. The Sunshine Coast sixteen-year-old found himself in the international spot light after a strong performance at the 2012 Rainbow Sandal's Battle of the Paddle and 2013 ISA games in Peru. Dews has recently signed with SUP ATX Racing and is excited about the future and more international racing.
Dew's is no stranger to international competition, taking the gold medal at the International Surfing Association games on the traditional paddleboard and finishing top ten at the Rainbow Sandal's Battle of the Paddle in 2012. "I'm super excited to be coming to Florida for Paddle for Humanity," said Dew's. Adding "I'm really stoked to be representing SUP ATX Racing and the Lahui Kai team." Dews will be racing on the SUP ATX Racing Manta race boards, powered by Lahui Kai and designed by World Champion Paddler Mick Di Betta.
Finding the best up and coming athletes is a part of the Lahui Kai program that Coach Di Betta is proud to bring to SUP ATX Racing. "SUP ATX respects my methods and ability to find the right athletes and provide them with the proper craft and training to become leaders in this sport," says Di Betta. Adding, "I really feel like a part of a big family with the team at SUP ATX and am grateful we can work together." SUP ATX will begin distribution of the Lahui Kai Manta in June, 2013.
One thing is certain, the future is bright for a young Dews. "Lincoln is the most underrated paddler out there," SUP ATX Racing Team Captain and champion paddler Kelly Margetts. Adding, "…with the combination of Supatx and Lahui Kai building a race team under the coaching and guidance of Mick Dibetta there are exciting times ahead!"
***
About SUP ATX: SUP ATX is the #1 Stand Up Paddle Board Maker on Earth! Founded in 2009, SUP ATX designs, develops and manufacturers SUPs for oceans, lakes and rivers worldwide. The SUP ATX line of SUPs have defined and revolutionized the SUP industry worldwide, officially moving the sport from the shores of Hawaii and Malibu to lakes, rivers and surfing areas everywhere. Quality, customer service, and value are SUP ATX's principles in delivering the best SUPs in the marketplace. Visit: http://www.SUPATX.com/ or call 1-866-4-SUPATX to learn more.
About SUP ATX Racing: SUP ATX Racing combines the best product, best value and best price with the innovation and performance of Lahui Kai and other select brands. Visit http://www.supatxracing.com for more information.