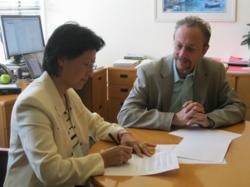 San Francisco, CA (PRWEB) May 14, 2013
This week Saybrook University's graduate School of Mind-Body Medicine signed an agreement with the San Francisco based American College of Traditional Chinese Medicine (ACTCM) to explore ways they can bring the best of 21st century western integrative health techniques to those studying traditional Chinese medicine – and bring the long-held wisdom of Chinese medicine to mainstream health practitioners.
The partnership will begin with a faculty member from ACTCM developing and teaching a course at Saybrook on "Whole Medical Systems" that includes the principles of Traditional Chinese Medicine, and will grow to include opportunities for students at each institution to take each other's courses. Both institutions anticipate whole new degree offerings coming out of this partnership.
Saybrook University, now in its 41st year, is a pioneer in distance learning. Today it combines online classes with in-person conferences and intensive seminars that give students the flexibility of online learning and the intimacy and immediacy of a classroom experience.
That means many of these new courses in traditional Chinese Medicine will be available to students anywhere in the world.
The partnership agreement was signed on May 1, and the new course offerings are expected to begin in January, 2014
"The faculty and administration at ACTCM is very excited about our collaboration with Saybrook University." According to ACTCM President Lixin Huang. "Our mutual commitment to integrative medicine and collaborative healthcare makes this an exciting new partnership that will bring benefits to our students, our patients and the communities we serve."
The American College of Traditional Chinese Medicine (ACTCM), founded in 1980, is at the forefront of acupuncture and Traditional Chinese Medicine education. ACTCM has two degree programs—the Master of Science in Traditional Chinese Medicine (MSTCM) and the Doctorate of Acupuncture and Oriental Medicine (DAOM). ACTCM also has an Acupuncture and Herbal Clinic, as well as acupuncture clinics in hospital and community clinic locations in the bay area, which serve as training ground for students, and provide affordable health care services for the community. ACTCM also has certificate programs in Tui Na and Shiatsu body work/medical massage as well as introductory classes for the general public.
"We've known for years that one of the areas our students are most interested in exploring is traditional Chinese medicine. Often it's something their patients want to know about, too" said Saybrook Provost Dan Sewell. "This partnership allows us to be on the forefront of helping offer medical professionals around the country instruction of the highest caliber in this form of traditional healing. We're very excited. "
Saybrook's School of Mind-Body Medicine was founded in 2009 by some of the leading practitioners of integrative health, including Dr. James Gordon, founder of the Center for Mind-Body Medicine in Washington, D.C., and Dr. Donald Moss, a past-president of the American Psychological Association's division on medical hypnosis and a board member of the Biofeedback Certification International Alliance, among other distinctions. It offers M.S. and PhD degrees in Mind-Body Medicine, including specializations in research, practice, health care systems management, and integrative mental health. It also offers Certificates in Mind-Body Medicine, Health and Wellness Coaching, Clinical Hypnosis, and Biofeedback and Neurofeedback to non-degree students.