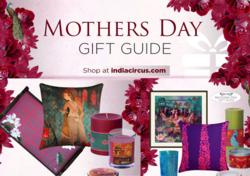 "The Mother's Day Gifting Guide, is our little and modest effort in hoping to put that beautiful and heartfelt smile on every mother's face", says, Krsna Mehta
(PRWEB) May 11, 2013
As the world celebrates Mother's Day tomorrow, India Circus takes an opportunity to honour the most special and beautiful woman in everyone's life. Noted designer Krsna Mehta's contemporary-chic home décor, lifestyle, personal accessories, and apparel brand has created a special Mother's Day Gifting Guide. The products in the Mother's Day Gifting Guide have been carefully selected and shortlisted, keeping in mind the choices and tastes of mothers from across the world.
The India Circus Mother's Day Gifting Guide has a variety of home décor products, such as vibrant cushions, ethnic scented candles and incense stick holders, breathtaking wall art, stunning upholstery fabrics, gorgeous lamps, pretty printed and embossed tumblers, elegant serving trays, and cool coffee mugs. There's a lot in the apparels area, too. Clothes from India Circus' newly-launched collection Bohemyan Blue also feature in the exclusive Mother's Day Gifting Guide. From flowing skirts and short-sleeved tops, to classy tunics and elegant dresses, there's a lot to choose from! The Gifting Guide has a range of stoles too.
Speaking about the Mother's Day Gifting Guide, Mr. Krsna Mehta, Design Director, India Circus, says, "While compiling the products, I immediately thought of my mother, and started thinking of all the things that she would enjoy and cherish as gifts. So, this Gifting Guide comes straight from my heart! I am sure this compilation of products will make it easy for our customers, the times when they have a difficult task of choosing a special gift for their mothers. This Guide is our little and modest effort in hoping to put that beautiful and heartfelt smile on every mother's face!"
With the Mother's Day Gifting Guide, India Circus gives its customers yet another exciting reason and way to celebrate this big day!