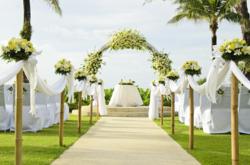 Newport Beach, CA (PRWEB) May 14, 2013
Michael Jordan's recent vow exchange with former model, Yvette Prieto in April 2013 followed a typical celebrity act of goodwill as guests were asked to donate to the James R. Jordan Foundation in lieu of gifts. http://www.charlotteobserver.com/2013/04/27/4008323/michael-jordan-wedding-dance.html
Those lucky in both love and money often find that they already have, or can purchase themselves, everything they need to start their lives together, making a traditional wedding registry unnecessary.
But couples don't have to be rich or famous to decide that asking for charitable donations instead of traditional wedding presents is right for them. Today's newlyweds aren't like those from a few decades ago when, after the wedding, couples would be moving out of their parents' homes for the first time and starting from scratch.
"Many brides and grooms have already lived on their own, either separately or together," says Brett Reynolds, CEO of Wedding.com. "They've already accumulated all the essentials that are a part of the usual wedding registry from kitchen gadgets to bath towels to bed sheets. For these couples, it makes more sense to ask guests to donate to their favorite charity, rather than receive another toaster."
Although scanning store aisles in search of the perfect china set may seem as essential to wedding planning as picking out bridesmaid dresses, it isn't always the case anymore. Swapping out traditional wedding customs, such as registering for gifts, for what is more fitting for the bride and groom's situation is gaining popularity.
For couples that would like to give back, but still want to receive gifts, donations can be made to charities in honor of each guest instead of purchasing wedding favors like chocolates, coasters or matchbooks.
Another option is to follow in Michael Jordan's footsteps by donating wedding flowers to a local hospital or nursing home. The former NBA star and his new wife donated their flowers to the Jupiter Medical Center.
Wedding registry or not, couples should stick to the option that suits their needs for the wedding day and for the start of their new life together.
About Wedding.com
Wedding.com is an innovative new website that connects engaged couples planning their wedding with wedding vendors looking to grow their business. Wedding.com contacts vendors for couples, giving them the power to compare and negotiate while ultimately saving time and money. With 15,000 couples and 25,000 vendors currently using the website, 150,000 proposals have already been sent since their inception. Vendors range in services from wedding planners, photographers, florists, and DJs to custom invitations, party favors, and much more. For additional information about the company and its services, please visit Wedding.com.