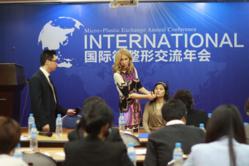 I have never had so many photos and videos taken both during and after my presentations.
Auckland, New Zealand (PRWEB) May 16, 2013
In late 2012, Dr. Sarah Hart, of Palm Clinic New Zealand, was invited to speak to doctors in China about Appearance Medicine. Although Dr. Hart regularly teaches doctors across Australia and NZ, this was her first trip to lecture in China, and quite a different experience it was!
Dr. Hart visited Guangzhou and Fuzhou, home to 12 and 7 million people respectively. Interest in cosmetic facial injectable treatments in China is very high at this point in time. As Dr. Hart passed through the Fuzhou airport she was surprised to see billboards promoting cosmetic medical clinics, as this is not something normally seen in NZ.
Dr. Hart spoke at four different cosmetic medical hospitals to an audience that spoke very little English, while a skilled professional relayed the translation in Mandarin. Electronic media was very prominent at these meetings. In the after hours, Dr. Hart was treated to a myriad of delicacies and sampled exotic dishes provided by her gracious and appreciative hosts.
Dr. Hart believes Appearance Medicine has huge growth potential in China over the coming years and the world will be watching with interest. To learn more about Dr. Hart and Palm Clinic New Zealand, visit their site here.