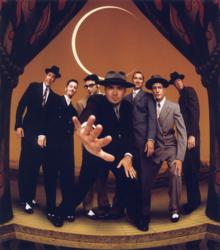 We make records because we have to, but play live because we love to
Napa, CA (PRWEB) May 13, 2013
The Uptown Theatre will celebrate its third Anniversary in grand style with great music, Hollywood searchlights, a red carpet, food, drinks and more! Headlining the night will be Big Bad Voodoo Daddy, who themselves are celebrating 20 years since their remarkable arrival on the music scene. In its first years, having secured their legendary residency at the Derby nightclub in Los Angeles, they reminded the world—in the middle of the grunge era, no less—that it was still cool to swing, big band style. Today the high-energy nine-piece ensemble continues the party and takes things to the next level with the release of Rattle Them Bones. The follow-up to the much lauded 2009 release, How Big Can You Get?: The Music of Cab Calloway, Rattle Them Bones still urges their millions of fans worldwide to shake and move to their inimitable grooves while also expanding their horizons with new musical inspiration and influence.
While Big Bad Voodoo Daddy has sold millions of albums, the stage has always been the band's first home. "We make records because we have to, but play live because we love to," says Morris. Its amazing how the chemistry in this band still works after so many years. Whether on stage or traveling down the road on the bus, everyone is hanging out together, laughing and enjoying being part of such a remarkable enterprise and enduring friendship — one that is so rare in this business." "We've never tried to put on airs or make people think we're something we're not," he adds. "There's an integrity that comes from writing and playing songs the way folks did in the old days, when they did it to capture the audience's imagination; not simply to click with a specific demographic. Our fans always know they're getting the real thing from us and true emotion that comes from the heart. We have no interest in being pop stars, but we have an absolute love of American music and a strong desire to share that with people."
Tickets for Third Anniversary Party with Big Bad Voodoo Daddy plus The Deadlies and DJ Harry Duncan are $37/47. They are on sale now and can be purchased through the theatre website at http://www.uptowntheatrenapa.com, at Ticketmaster (http://www.ticketmaster.com) or at the theatre box office (please call 707.259.0123 ext. 6 for hours). To find out more, please visit http://www.uptowntheatrenapa.com.
The Uptown Theatre Napa is downtown's ultimate destination for live concerts. Nestled in the famed West End district, this stunningly restored art deco masterpiece showcases only the finest acts, featuring music, comedy and more. An historic landmark, the Uptown offers a phenomenal, intimate live show experience, with excellent site lines and world class sound and lighting. As concert venues go, this is the place to be. Every seat is a great seat so buy concert tickets now!