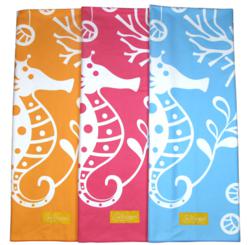 SolEscapes takes the concept of a compact travel towel and makes it into a fun, stylish and functional luxury beach towel.
Kentfield, CA (PRWEB) May 14, 2013
With the introduction of the Travel Lux Microfiber Beach & Pool Towels, SolEscapes takes the concept of a compact travel towel and makes it into a fun, stylish and functional luxury beach towel for all beach & pool enthusiasts and warm weather vacationers who are not willing to sacrifice comfort and style for practicality. The result is a generous 40x70" sized towel in a super soft and absorbent microfiber material. The large full sized sea life print is fun and whimsical with bold and vibrant colors just like a beach towel should be. Little details are not forgotten, such as a perfectly placed hanging hook in SolEscapes' signature yellow and contrasting border stitching all the way around the towel.
Ultra light and compact travel towels are often used by globetrotters, back packers and vacationers to save room in their luggage and to avoid lugging around regular bulky cotton towels when traveling the world visiting exotic locales. Most of the ultra thin microfiber towels on the market are small, making them big space savers, and although functional in the sense they will dry the user they leave much to be desired in terms of comfort and style. Even microfiber sports towels touted as extra large are barely large enough to tie around the body. The Travel Lux Towels bring comfort and style to the travel towel market.
"The Travel Lux Microfiber Beach & Pool Towels are a huge space saver and a joy to use when on a warm weather vacation," says Rakel Reed Owner/Founder of SolEscapes.com. The luxurious travel towel idea came about during a family cruise vacation in the Southern Caribbean a few years back. Even though the luxury cruise line supplied passengers with fresh high-end towels every morning, the terry towels were so large and bulky it was impractical to carry them around visiting the islands. With two young boys in tow and having to fill the daypacks with water, snacks, swimwear and sunscreen, the family resorted to sharing towels. "This was not my idea of a fun family beach visit, there must be a better way," says Rakel, a passionate believer in functional style. The Travel Lux idea was born during this cruise. Taking the concepts of a compact travel towel but making it into a truly functional and fun to use beach towel. Rakel set out to develop the perfect microfiber beach and pool towel. Designing a towel that mirrors the luxuriousness and functionality of over-sized beach towels but with the practical qualities of traditional travel towels.
The Travel Lux Beach & Pool Towels are fantastic for beach, resort & cruise travel but also for daily use at the local gym and pool. Additionally, customers love these microfiber towels for pool parties, boating and beach summerhouse vacation rentals.
For those traveling with just carry-on luggage a Travel Lux Towel will easily fit in a corner of the carry-on. It can even be used as a blanket on the airplane. How nice is that? Not having to use those "who knows where they have been" blankets the airlines supply.
SolEscapes is passionate about offering products that marry function with style. In addition to developing their own private label products including the Travel Lux Towels, they have partnered with some of the leading companies in the industry providing products with superior style and function ranging from sun hats from Physician Endorsed and Gottex, beach and resort bags from 44knots and Global Glamour, sunscreen from COOLA suncare, sunglasses from the Jacqueline Kennedy Collection and sun protection clothing from Victory KoreDry and Snapper Rock Swimwear.
SolEscapes is a California based online boutique specializing in sun, beach and resort wear & gear. SolEscapes prides itself on personalized service, customer satisfaction and fast affordable shipping. To see more check out SolEscapes.com, Pinterest.com/SolEscapes, Facebook.com/SolEscapes and Twitter.com/SolEscapes.