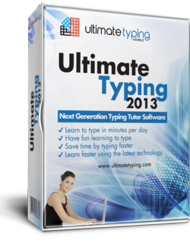 Ultimate Typing offers 5 short courses to its users and these distinct courses cater to users at varying skill levels.
New York City, NY (PRWEB) May 17, 2013
When the developers at eReflect were designing Ultimate Typing software, they relied on user feedback as well as typing experts to come up with the exercise plans. As the development team pointed out in a short news release today, one of these features is a set of five short courses that have been designed to enhance the accuracy and speed of typists through a step by step guide that allows users to master a skill and then proceed towards the next skill. The typing software offers its typist various exercises that have been specifically designed to cater to the needs of both amateur and skilled typist. In a recent review of typing software published by VocabularyBuilding.Org, the reviewer highly praised the distinct features of the software and stated that the software "has it all." Noting the value of feedback from such reviews, the developers included an explanation about how this flexibility works, in today's statement.
As the statement outlines, Ultimate Typing offers 5 short courses to its users and these distinct courses cater to users at varying skill levels. Courses include a beginner typing course, an accuracy building course, a speed building course, an advanced typing course, and a numeric keypad course. These courses combine theoretical and practical knowledge and therefore provide valuable guidelines to typists at all levels regarding various aspects of touch typing.
As the VocabularyBuilding.Org review highlighted, the initial course begins with an emphasis on proper placement of specific fingers through carefully designed exercises that allow the typist to master the skill. Typing tips are categorized and each tip allows user to perfect a specific skill such as dealing with punctuation, numbers, or symbols.
Explicit guidelines are offered along with all the courses in order to ensure that the user faces no difficulty in grasping the concepts. Rather than forcing the typist to mechanically perform the task, focus is placed on imparting the knowledge in a manner such that typing with speed and accuracy becomes automatic for the typist.
Accuracy and speed is taught within specific courses and each row within the keyboard is taught separately in logical manner. This feature was also noted in VocabularyBuilding.Org's review, which stated that such a technique ensures that the user is given training to eventually eliminate all typing mistakes.
eReflect's development team is pleased that this and other reviews prove that Ultimate Typing is indeed a complete package that caters to needs and demands of all its users while also providing an easy to use interface and fun games that can make the entire experience of learning to touch type enjoyable.
For more details on Ultimate Typing™ please visit http://www.ultimatetyping.com/.
About Ultimate Typing™
Ultimate Typing™ software is designed specifically for the improvement of typing skills. Created by eReflect, a world leader in e-learning and self-development software, Ultimate Typing™ has been informed by the latest developments in the science of touch typing.
Since its creation in 2006 by Marc Slater, the company has already catered to over 112 countries all over the world, offering products with the latest cutting-edge technology, some of which are among the world's most recognized and awarded in the industry.