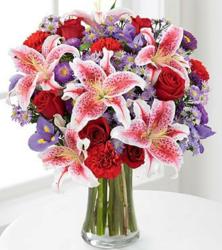 Atlanta, GA (PRWEB) May 15, 2013
Peachtree Petals, a recognized leading Atlanta florist specializing in premium floral arrangements and wedding floral services, announces sale on After Mother's Day flowers. The announcement of the sale is in an effort to expand its market after Mother's Day and continue to increase sales growth. Peachtree Petals strives to be the best choice in high-quality and custom-designed floral arrangements throughout the US.
Mother's Day is one of the greatest holiday sale season during the year for all florists around the world. On this special day, 25% of all floral purchases made during all of the annual holidays combined are made on Mother's Day. Although Mother's Day has passed, customers are still purchasing Mother's Day Flowers for various reasons and Peachtree Petals has continued to offer their floral sales this week.
The $10 pick-up discount for After Mother's Day flowers is available for all bouquets and gift orders that their customers pick up from the Peachtree Petals floral shop. The $10 pick-up discount cannot be combined with any other current pick-up specials. When placing an order online, customers will select the option to pick up order and the $10 discount will be credited to their debit or credit card upon pick up. Customers can pay at time of pick up as well.
Another offer for After Mother's Day flowers is the Peachtree Petals pick-up only specials. Peachtree Petals offers a selection of heavily discounted floral arrangements, which can only be picked up. It is the best deal for the price, which customers will get much more for their money. For example, the Pure Bliss Bouquet is a pick-up only special, regularly priced at $54.99. However, customers can purchase the beautiful floral arrangement for only $32.99 as a pick-up only special.
Peachtree Petals also continues to offer their standard free same-day delivery of all their floral arrangements within the Atlanta and Metro Atlanta area. To confirm whether a customer's delivery address is within a free delivery zone, the florist has a delivery map tool within their About Us Tab on their website. Free same-day delivery consists of a 5-hour window time. Customers can also pay an additional $8.99 for rush service, in which Peachtree Petals will perform the delivery within half the standard window time.
Peachtree Petals is a well-known leader of superior floral arrangements and a recognized Master Florist nationwide. Based in Atlanta, Georgia, Peachtree Petals services a growing list of clients, including company floral subscriptions and weekly floral services. The company offers a simple approach to the floral industry, most notably, free same-day delivery of all their floral arrangements in the Atlanta and Metro-Atlanta area.