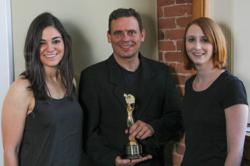 Andover, MA (PRWEB) May 16, 2013
National College asked the team at Effective Student Marketing to use their knowledge and expertise to help generate student inquiries for the federal government's Veterans Retraining Assistance Program (VRAP). The team organized an integrated online campaign that wove together content creation, social media, mobile optimization, and paid media to help the school reach its enrollment goals. The campaign performed so well it earned Effective Student Marketing a 2013 AVA Digital Award in Digital Marketing & Social Campaign.
National College asked the team at Effective Student Marketing to help increase awareness for the Veterans Retraining Assistance Program (VRAP), highlight informational sessions and gather inquiries from potential veteran students who would qualify for the program. It was a natural extension since Effective Student Marketing was already in charge of the social media marketing for the school's campuses in Virginia, West Virginia, Tennessee, Kentucky, Ohio, and Indiana.
After the team strategized how each phase of the campaign would rollout, the VRAP lead generation campaign officially launched in June 2012. During the first three months, half of the inquiries generated by Effective Student Marketing ended up enrolling at National College. Effective Student Marketing has not only gathered high quality prospective students for National College, but they also generated over 3,000 new "likes" for the National College pages on Facebook.
Here are more details about Effective Student Marketing's lead generation campaign for the National College VRAP program:

Effective Student Marketing's in-house graphic designers, copywriters, and programmers created customized Facebook tabs that included details about upcoming informational sessions, class start dates, success stories of veterans who have attended National College, and a "Request Information" form.
Mobile users were automatically redirected to a mobile optimized landing page in order to increase conversions.
Effective Student Marketing's social media experts incorporated links to veteran success stories and the customized Facebook tab into the school's social media posting schedule.
The search engine marketing specialists at Effective Student Marketing turned these Facebook posts into paid Facebook advertisements to increase the campaign's visibility and engagement.
The campaign was so successful that Effective Student Marketing and National College nominated it for the 2013 AVA Digital Award in Digital Marketing & Social Campaign. This is the second time that Effective Student Marketing was awarded a prestigious marketing award for their work with National College.
Effective Student Marketing and National College will be including this case study in an upcoming presentation at the Association of Private Sector Colleges and Universities (APSCU) Annual Convention on June 6, 2013 at 2:15 PM in Orlando, Florida. The case study is a part of the seminar "How to Survive in Today's Turbulent World of Student Lead Generation" and teaches school how to get more out of their marketing budgets through integrated online marketing campaigns.
About Effective Student Marketing
Effective Student Marketing specializes in social media marketing in the higher education industry. The team at Effective Student Marketing creates customized social media marketing campaigns to help schools achieve their enrollment, retention, and placement goals. In addition to social media, the Effective Student Marketing offers other services including search engine marketing, content creation and distribution, web design and optimization, reputation management, and cost-per-lead management. You can find more information about their services at http://www.EffectiveStudentMarketing.com.