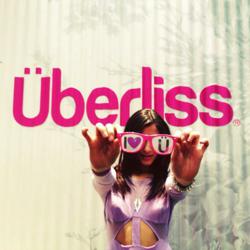 Überliss is definitely capturing stylists' attention.
New York, New York (PRWEB) May 15, 2013
Überliss debuted their Straight Effect Smoothing System at the Jacob K. Javits Convention Center in New York City. Holding a prime position at the entrance of the International Beauty Show, Überliss set the stage for the three-day event. Stylists from all over the Manhattan area attend the beauty show to learn about and invest in new products.
Überliss immediately captivated stylists with their live presentations of the amazing formaldehyde free smoothing system. Seeking a safe alternative, they were drawn to Überliss' unique product offering. Additionally the brand created greater buzz when stylists discovered that Überliss can be rinsed the same day, as opposed to a waiting period of three to four days like formaldehyde-laced brands such as Keratin Complex, Brazilian Blowout, and GKhair. Fashionable models showcased their ultra smooth and shiny locks for all to see and feel.
Geppe Enfiomusi from Piermarco Group, a New York distributor of Überliss, was in attendance at the show and is excited for the future of the brand.
"We are very pleased to work with a brand that truly cares not only about providing the best product, but also educating the stylist on their safe alternative to other smoothing treatments. Überliss is definitely capturing stylists' attention."
Local New York and New Jersey stylists can purchase the Überliss Straight Effect Smoothing System through the Piermarco website at http://www.piermarcogroup.com/
Stylists or consumers interested in more information on the Überliss 3-step smoothing system can visit http://uberliss.com.
About Überliss
Überliss is a three step smoothing system designed to straighten frizzy and wavy hair textures. Formulated with an exclusive Triple Blend of Cysteine, Keratin, and Buriti extracts, the formaldehyde-free system guarantees smooth, shiny, silky, and soft hair. Launched in February of 2011 in Brazil, Überliss, a Salon Commodities brand, is quickly growing into a favorite of professional hair stylists worldwide. http://www.uberliss.com