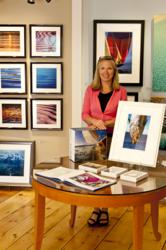 I focus on placing Onne van der Wal's beautiful prints in people's homes and work places so they can enjoy the peace, tranquility, or action packed adventure that his imagery portrays
Newport, RI (PRWEB) May 15, 2013
Bringing her interior design expertise in to play, Tenley van der Wal, wife of world renowned nautical photographer, Onne van der Wal, is now offering consultations when it comes to placing van der Wal's nautical photography.
Whether art aficionados are looking to incorporate Onne van der Wal photography in their home or office space, Mrs. van der Wal will provide her interior design expertise when it comes to selecting the appropriate size, mediums (think canvas, photo paper, watercolor paper) and custom frames to fit the designated space.
"Before opening our gallery in Newport 12 years ago, I had been an interior designer for over 20 years," says Tenley van der Wal. "I focus on placing Onne's beautiful prints in people's homes and work places so they can enjoy the peace, tranquility, or action packed adventure that his imagery portrays."
With over 20 years in experience as an interior designer, Mrs. van der Wal has an extensive background in commercial interiors. From construction drawings to paint colors, van der Wal's education hails primarily in interior architecture, making her a go-to person for this new service.
Homeowners, business owners, hotels, restaurants, and facility managers interested in these new art consulting services can contact Tenley van der Wal at +1 401-849-5556 or visit Onne van der Wal Photography Gallery 1 Bannisters Wharf Newport, RI 02840.
About Onne van der Wal Photography
Onne van der Wal has been a nautical, sailing and yacht photographer for over 20 years. Providing an in depth understanding to sailboats and yachting, in addition to his skills as a professional photographer, van der Wal brings a keen eye to each ocean photography project, who was once a professional sailor himself. In addition to his extraordinary photography projects done around the world, a gallery of his work can be found at his namesake gallery on Bannister's Wharf downtown. For more information on Onne van der Wal, his photography and his Newport Gallery, visit http://www.vanderwal.com.