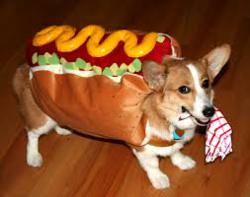 The Dog Parade and fashion show will begin at 11:45 am. The owners of interested dog models can preregister morning of the event or just show up.
Seattle, WA (PRWEB) May 15, 2013
The Fremont BBQ Extravaganza, a festival and fundraiser featuring Seattle's largest BBQ competition, will be held Sunday, June 2, from 10 a.m. to 11 p.m. at the corner of Dayton Ave. and 36th Street. The BBQ competition is sanctioned by the Northwest BBQ Association, and will benefit the Fremont Arts Council Solstice Parade. The event will feature the amateur BBQ teams competing for a $2,000 in prize money and a BBQ Smoker; BBQ demonstrations and samples; BBQ sauce tastings; a whole-hog pig roast; a mini-pancake eating contest; a bagel ring toss; a dog fashion show; local beer and spirits tastings; and music stages offering everything from bluegrass to rockabilly. Admission is free, but purchasing tickets for the Whole Hog BBQ meal and the All-Local Beer Tasting is recommended, at http://www.brownpapertickets.com/event/383256, or by calling Brown Paper Tickets' 24 hour ticketing concierge at 1-800-838-3006. Donations to the Fremont Solstice Parade can be made directly at: http://myfremont.org/SolsticeParade.
The BBQ championship is open to amateur teams of chefs, and it will be judged by the founders of the Pacific Northwest BBQ Association, all of whom have won numerous BBQ cooking competitions. To be a competitor you must join the Pacific Northwest BBQ Association at http://www.pnwba.com, and submit an application and fee.
The mini-pancake eating event will be judged on speed, not quantity. There will be a variety to choose from, such as regular, chocolate chip, and blueberry, all served with syrup and fresh whipped cream. The competitive age groups will be starting at 4 to 6 years old; 7 to 10 years old; 11 to 15 years old; and 16 and up.
The Dog Parade and fashion show will begin at 11:45 am. The owners of interested dog models can preregister morning of the event or just show up. Prizes will be donated by Petapoluza and Norm's Eatery.
The Whole Hog BBQ Meal consists of pulled pork, corn on the cob, coleslaw, Texas toast, pickle, marinated red onions, house BBQ sauce, Four Roses BBQ Sauce and a slice of fresh pie with whip. Limited quantities of Whole Hog will be available; purchasing the whole hog meal ahead of time is recommended.
The event benefits the 25th annual Fremont Solstice Parade, which will be held at 3 p.m. (instead of at noon) Saturday, June 22. Sponsors of the Fremont BBQ Extravaganza include: NW BBQ Association, Peter Glick Restaurants, U.S. Foods, Seattle Bagel Bakery, Sutter Home & Hearth, Roxy's Diner, Pete's Fremont Fire Pit, The Backdoor, Norm's Eatery, Petapalooza, Fremont Chamber of Commerce, PCC Natural Markets, Homestreet Bank, Fremont Rotary and Living Social. For more information, visit http://www.FremontArtsCouncil.org, on Twitter @MyFremont, and on Facebook at: http://www.facebook.com/pages/Petes-Fremont-Firepit/299337630107185.
About Brown Paper Tickets: Brown Paper Tickets (http://www.BrownPaperTickets.com), the Not-Just-For-Profit ticketing company, revolutionized the industry by putting free, professional tools for ticketing any-sized gathering on the Internet, and continues to champion the rights of ticket-buyers with the lowest fee for the most service in the industry. The company donates 5 percent of the profit from each ticket sale to build communities and nonprofits, pays its employees to work 40 hours each year for the cause of their choosing, and employs a team of "Doers," experts in industries such as music, new media, makers, roller derby and more, to fix, improve and revolutionize the communities where we live, work and play.
###