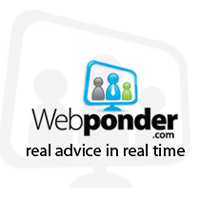 Miami, Florida (PRWEB) May 15, 2013
Find an attorney to get legal advice online through live video chat is now available in the areas of family law, criminal law, and personal injury on Webponder.com, an expert advice website. On Webponder.com, visitors can now connect with attorneys through a live video chat, and get answers and legal advice to their legal questions.
Webponder.com is a website that connects individual in need of advice, such as free legal advice, with experts and professionals not only in the legal field, but in many other fields of expertise as well. The connection is initiated by the individual looking for advice, and he or she sends a video consultation request to the expert of their choice. Each expert has a posted rate that they are willing to have a video consultation at, and visitors are free to choose any expert they wish to meet with about any subject, for example how to get a divorce or how to sue someone.
Once the expert or professional views the video consultation request, they can either "Approve," "Deny", or "Suggest a New Time." Once the request is approved, both parties log in to their Webponder accounts, click on "Join Meeting" in the meeting request, and meet face to face through the live video chat on Webponder.com. There is no download, plugin, or installation necessary, only the availability of an internet connection and a webcam.
There is no charge for people seeking advice to be Members on Webponder.com. The only fee that they need to pay, is the video consultation rate charged by the expert or professional. However, most experts or professionals on Webponder offer free initial consultations, and in that case, Webponder provides access to some of the most credible and credentialed experts on the web, through a live video chat from the comfort of the Member's own home.
There are experts on Webponder ready to give advice and answer questions in a multitude of categories, whether you need to know whether you need therapy, or need someone to answer social media questions, or need an estimate on a car tune up cost.
Inquiries regarding Webponder should be directed to Managing Director Steve Thompson at (305) 373-7775.