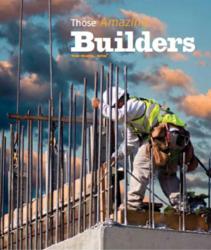 Englewood Cliffs, NJ (PRWEB) May 15, 2013
Educators can help middle and high school students navigate the many career options in the construction industry with a free 34-page book coming out next month by Trilogy Publications.
Sponsored by private corporations and associations, Those Amazing Builders walks students through the fast-changing world of construction and offers snapshots of the many job opportunities available.
Through a unique outreach initiative, school districts, guidance counselors and teachers nationwide can now apply for free copies of Those Amazing Builders for their students on Trilogy's website.
"By 2016, there will be one million new jobs in construction. The opportunity and the rewards in the construction industry are there for today's young people," says Trilogy partner Rose Reichman. "Students may have little understanding of the world of construction. Yet when they recognize that people in the building industry are working to solve many challenges of our times—delivering safe, secure transportation systems, providing clean water, and supplying clean and affordable energy—their interest and respect for the construction industry grows dramatically."
Those Amazing Builders is a full color book that covers infrastructure and building projects, building green, building all over the world, and the role played by each member of the building team. A "How Do I Get There from Here" section tells how to get started on a career in construction management, architecture and engineering, or building trades ranging from carpenters, plumbers and electricians to boilermakers and ironworkers.
In early reviews, students have called Those Amazing Builders "astonishing...very helpful and inspiring…fascinating…a great read." As one said, "If I hadn't read this book, I would have thought so many of these projects were impossible."
Interested educational professionals can sign up now to receive free copies of Those Amazing Builders in time for the new school year and get more information on the book and the construction outreach initiative at http://www.trilogypublications.com or by calling 201-816-1211.
# # #
Based in Englewood Cliffs, New Jersey, Trilogy Publications LLC is a partnership of communicators whose mission is to encourage elementary and middle school students to seek rewarding career paths and introduce them to fields they might otherwise overlook. Through its Those Amazing…series Trilogy aims to introduce children early on to careers that can benefit them as well as society, in the belief that the world will be a safer, greener, better place for all of us.
CONTACT:
Rose Reichman
201-816-1211
rreichman(at)reichmanfrankle(dot)com