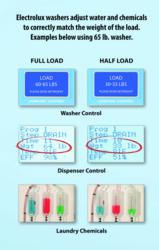 Electrolux solutions create added value for your business.
Inwood, NY (PRWEB) May 16, 2013
The laundry industry recognizes that under loading washers is a common problem and surveys show that between 60-70% of wash loads are under loaded. This human error allows for wasted water and wasted laundry chemicals. While traditional systems work on the assumption the washer is always loaded to full capacity, with SmartDosing by Electrolux, the laundry chemical controller is "smart" enough to adjust the chemicals for the perfect ratio to water. If a washer is loaded to 50% capacity, the water and chemical savings could be up to 30% per load.
Electrolux Excellence
At the core of all innovations, Electrolux constantly strives to anticipate your needs and to create solutions and services that generate a real edge in your business. With SmartDosing the benefits are tangible in efficiency, costs, and cleaning results. The proper dosing ratio allows for a finished product that has been thoroughly rinsed and is comfortably used by your customer.
Consumptions are reduced, while still providing high quality results, at a minimum cost. Controlling the chemicals and water also has a positive impact on the environment.
"It's not just about machines," states Kim Shady, Senior Vice President of OPL at Laundrylux and 25-year industry veteran, "Electrolux solutions create added value for your business. When Electrolux says they are 'thinking of you' it means exactly that. Every innovation is designed by experts to best meet your needs and exceed your expectations – and SmartDosing definitely exceeded my expectations. It's incredible."
Simple To Use
SmartDosing is simple to install and very easy to use. Operators do not need to select anything –the process is automatic. An integrated USB port completes the system allowing programming data to be uploaded or reports to be downloaded. The controller is able to manage from 2 – 6 pumps. It works seamlessly with Electrolux Compass Control washers equipped with Automatic Water Savings (AWS).
Want to learn more about SmartDosing and other Electrolux Professional Laundry innovations? Call (800)645-2205 or visit http://www.laundrylux.com/electrolux