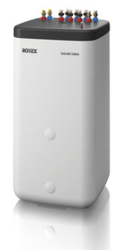 (PRWEB) May 23, 2013
Solar Usage Now will be receiving an updated version of the ROTEX hot water storage tank. The tank's outward design and installation properties have been expanded on, making an even more efficient hot water storage tank.
Solar Usage Now produces a solar thermal heating system it has dubbed the SUN Equinox. A key item in the SUN Equinox heating system is the ROTEX thermal storage tank. This tank has just been updated to a new model. The ROTEX thermal store was constructed using the latest thermal technology and hygienic water standards. The structure of these tanks is different from the normal large volume hot water storage tanks on the market today. This hot water storage tank is simply a big bucket of water. Stainless steel corrugated coils are used as the internal heat exchangers for the tank, which can host up to three of the coils. The number of coils used is based on the system requirements. Potable water is then ran though the coils collecting heat on its way to the top of the tank. This design results in hygienically perfect hot water being delivered at any given time.
The tank is very durable, has a compact design and is also low weight. The modular system capability allows there to be an interconnection of several storage tanks. This design allows these tanks to be used in high-volume hot water demand situations. The new version of the tank will have even better insulation qualities than the previous model, and has also taken on a new look coming in white instead of gray.
The ROTEX tanks have been used world wide in 1000's of installations. Now there is an even better version of this tank, and theres only one place to get it. Solar Usage Now.
For more information about the SUN Equinox Heating System check out our website at http://www.solarusagenow.com.