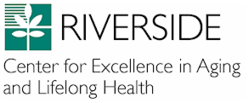 Williamsburg, VA (PRWEB) May 16, 2013
Four years after launching the "Caring For You, Caring For Me" program in Williamsburg and providing support to Virginians caring for older adults, Riverside Health System's Center for Excellence in Aging and Lifelong Health (CEALH) received statewide recognition for the impact it has made on hundreds of program graduates and thousands of families across the Commonwealth.
CEALH placed first in the Commonwealth Council on Aging's 2013 Best Practices Award Program. The 19-member Council is made up of Virginians from across the state, including 11 Governor appointed seats.
The council will present the award at 3 p.m., May 20, at The Gardens at Warwick Forest, one of Riverside's Continuing Care Retirement Communities in Newport News.
The "Caring For You, Caring For Me" program grew from an $80,000 Williamsburg Community Health Foundation grant and was modeled after the Rosalynn Carter Institute's (RCI) program.
The program, launched by the Carter institute in 1996, aims to address the needs of family and professional caregivers by bringing them together to discuss common issues, share ideas and gain a better understanding of the other's perspective on what it means to be a caregiver.
Through the "Caring for You, Caring for Me" program, CEALH has served more than 211 caregivers, in 13 different venues, through direct participation in the program, according to the Virginia Department for Aging and Rehabilitative Services. An estimated 2,800 care recipients benefit each year, with more than 6,630 recipients since the program began, given that many caregivers care for more than one person at a time.
"The Riverside group designed and built a very effective program for training a significant number of caregivers, both professional and non-professional," said awards committee chair Dr. Richard Lindsey. "By also training individuals to be facilitators to conduct future training, this will help sustain the program and continue to make available better trained caregivers for older Virginians."
According to the AARP Public Policy Institute, more than 300 million people serve as caregivers in the U.S., with more than 7.8 million of them living and working in Virginia.
Virginia caregivers provide 1.13 million hours of care per year at a value of $11.7 billion.
Caregivers save the healthcare system nationwide an estimated $450 billion annually by keeping older adults in their homes and out of emergency rooms, among other benefits.
According to the 2013 Alzheimer's Facts and Figures Report, people who care for loved ones with dementia cost the healthcare system $90 billion per year in poor physical and mental health.
Learn more about caring for older adults at CEALH at http://www.excellenceinaging.org.