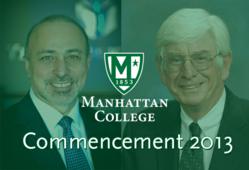 RIVERDALE, N.Y., (PRWEB) May 15, 2013
Bernard P. Pierorazio, superintendent of Yonkers Public Schools, and Charles H. Thornton '61, Ph.D., P.E., chairman of Charles H. Thornton & Company, LLC, will deliver keynote addresses at Manhattan College's two commencement ceremonies on May 18 and May 19. Both Thornton and Pierorazio will also be recipients of honorary doctoral degrees.
Pierorazio will speak on Saturday, May 18 at 3 p.m. at the College's Spring Commencement. This graduation awards master's degrees to students graduating from the Schools of Business and Engineering; bachelor's and master's degrees to students from the School of Continuing and Professional Studies; and master's degrees and professional diplomas to students from the School of Education and Health.
On Sunday, May 19 at 1 p.m., Thornton will address the undergraduates receiving degrees in arts, business, education and health, engineering and science.
"Manhattan College is honored to welcome Superintendent Pierorazio and alumnus Charles Thornton to campus to celebrate the class of 2013," said Brennan O'Donnell, Ph.D., president of Manhattan College. "We look forward to hearing their words of wisdom and support."
Members of the media who would like to cover the commencement ceremonies should call Liz Connolly Bauman, director of communications at Manhattan College, at (718) 862-7232 or email public_relations(at)manhattan.edu.
Bernard Pierorazio
Pierorazio, the 2011 New York State School Superintendent of the Year, has earned several recognitions, including the Boy Scouts of America Excellence in Education Award, the College Board's William U. Harris Award of Excellence, and the New York State Association for Women in Administration's Maxine Giacobbe Award. He has formed district partnerships with the Bill & Melinda Gates Foundation and the College Board to establish the Palisade Preparatory School, the Yonkers Partners in Education Foundation and the Beczak Environmental Education Center.
Read more about Bernard Pierorazio at https://www.manhattan.edu/news/superintendent-yonkers-public-schools-speak-manhattan-colleges-spring-commencement
Charles Thornton
Thornton, who received a Bachelor of Civil Engineering from Manhattan College in 1961, is one of the world's preeminent structural engineers and a former member of the Manhattan College Board of Trustees. He is also a founding principal and former co-chairman of the international consulting firm Thornton Tomasetti, a worldwide leader in engineering design. He has been involved in the design, construction and analysis of billions of dollars worth of projects worldwide, including award-winning hospitals, arenas, high-rise buildings and airports that have set industry standards for innovative thinking and creativity.
Read more about Charles Thornton at https://www.manhattan.edu/news/engineering-luminary-charles-thornton-61-speak-manhattan-colleges-commencement-may-19
###
About Manhattan College:
Manhattan College is located at West 242nd Street near Broadway in the Riverdale section of the Bronx, one mile from the Westchester County line and accessible by MTA subway line No. 1. For directions to the campus, visit http://www.manhattan.edu.
Founded in 1853, Manhattan College is an independent, Lasallian Catholic, coeducational institution of higher learning offering more than 40 major programs of undergraduate study in the areas of arts, business, education and health, engineering and science, along with continuing and professional studies, and a graduate division. For more information about Manhattan College, visit http://www.manhattan.edu.