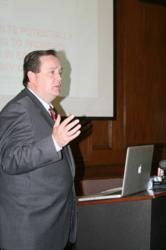 Toledo, Ohio (PRWEB) May 16, 2013
At a press conference on Wednesday, May 15, 2013, the representing attorneys of the victims of the Clyde Cancer Cluster, Attorney Alan Mortensen and Attorney Charles Boyk, shared the findings from the environmental testing conducted in the Clyde area, as 13 ABC News reported on May 15, 2013.
As reported by Cleveland's 19 Action News during their May 15, 2013 broadcast, Attorney Alan Mortensen introduced the media to the faces behind the Clyde Cancer Cluster, including the Brown family and the Hisey family who have both been affected by the cancer cluster.
As WTOL News reported on May 15, 2013, Attorney Alan Mortensen explained how the families arranged for an environmental expert to test the area to find a cause for the cancer cluster. He then released the results of the tests, explaining that they show elevated levels of Benzaldehyde in the attics of the victim's homes. WTOL news explained that Benzaldehyde is a hazardous substance and was found at approximately the same level in each home.
A lawsuit has been filed against Whirlpool in the United States District Court for the Northern District of Ohio Western Division, Case Number 13-cv-01092, on behalf of the Clyde Cancer Cluster families.