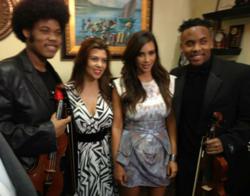 "We love to provide our shoppers with a pop of culture every Friday evening!" says Maggie Anzardo, Marketing Director of Southland Mall
Miami, FL (PRWEB) May 16, 2013
Southland Mall has curated an exciting line-up of local musicians and dancers to perform during this month's "Festive Fridays" series. Every Friday evening, Cutler Bay residents are invited to celebrate different cultures while enjoying live performances and activities inside the mall's Center Court.
Below is a list of events for the month of May:

May 17th – Miami based singer and songwriter, Bryant Del Toro, brings his feel good music to Southland Mall during a one hour acoustic guitar session (7:00- 8:00 p.m.).
May 24th – The dynamic violin duo, Sons of MyStro, takes the stage from 6:00- 7:00 p.m. These talented brothers recently performed alongside the Miami HEAT during their Back in Black promotion and welcomed the Kardashian sisters to Miami with a serenade at North Miami City Hall. There will also be a one hour performance by students from "Belly Dancing by Shayna" starting at 7:00 p.m.
May 31st – Impact Dance Miami will perform from 6:00- 8:00 p.m. Dancers will be showcasing their newest hip hop and jazz routines so get ready to groove! Plus, kids will have the opportunity to receive a complimentary ornament from Mud Puddle Ceramics.
"Festive Fridays" are free events that are open to the public. Southland Mall is conveniently located on U.S. 1 and S.W. 205th Street, off the Florida Turnpike, Exits 11 or 12. For more information on Southland Mall or to learn about partnership opportunities for upcoming "Festive Fridays," email inquiries to info(at)thinkpeacock(dot)com.
###
About Southland Mall
Southland Mall, located in South Miami-Dade County, Florida, the densest, most populous county in the southeastern portion of the state of Florida, has over 1 million square feet of gross leasable area. Southland Mall is conveniently located on U.S. 1 and SW 205th Street, off the Florida Turnpike, Exits 11 or 12, and is the only enclosed regional mall servicing South Miami-Dade County down to the Florida Keys. Southland houses over 100 specialty stores, including Macy's, Sears, JC Penney, TJ Maxx, Old Navy, Starbucks, a 16-Plex Regal Cinema and diverse Food Court. For more information about Southland Mall, visit mysouthlandmall.com on your mobile device, follow us on Twitter @solandmall, 'Like' us on Facebook at southlandmallmiami, or call (305) 235-8880.
About Gumberg Asset Management Corp.
Gumberg Asset Management Corp., a diversified real estate retail organization with a tradition of uncompromising integrity and unbeatable performance is the manager of Southland Mall. For further information, visit the Company's website at http://www.gumberg.com.