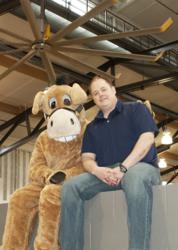 Lexington, KY (PRWEB) May 16, 2013
Isaac Fedyniak, a member of the growing engineering team at Big Ass Fans, has been named to Consulting-Specifying Engineer's 2013 40 Under 40 Award. This exclusive list is published annually, recognizing building industry professionals age 40 and younger who stand out in all aspects of their lives.
Fedyniak, who recently began developing a new Building Solutions division of Big Ass Fans, combines his academic knowledge and technical skills with a practical understanding of design requirements to excel in his field. Previously a senior project manager and electrical engineer with a consulting engineer firm, he played a key role in numerous high profile projects across the country, including several of the first net-zero facilities in the country.
Outside of work, Fedyniak serves as a mentor for students at the University of Kentucky and throughout the Fayette County Public School system. As the industry liaison for Transylvania University's Sustainability Council, a volunteer position specifically created for him due to his knowledge of sustainable practices, Isaac wrote the University's Climate Action Plan and advises on greenhouse gas mitigation efforts.
Individuals named to Consulting-Specifying Engineer's 40 Under 40 list were nominated by professional colleagues or mentors and judged based on commitment to excellence in their academic, professional, personal and community involvement.
"Now in its sixth year, the competition is becoming more intense," said Amara Rozgus, Editor-in-Chief of Consulting-Specifying Engineer. "Each winner truly deserves this award. Through project management, finding unique engineering solutions, volunteering, mentoring and much more, these winners are guiding the building and engineering community."
Fedyniak is the second Big Ass employee to receive this honor. Christian Taber, Senior Applications Engineer at the company, was named to the 40 Under 40 list in 2011.
For more information on the award, please visit http://www.csemag.com/40under40.