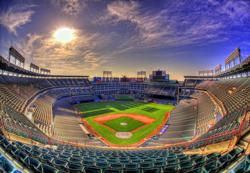 Denver, CO (PRWEB) May 17, 2013
Take me out to the ballgame is proving to be a popular refrain again this year. In fact, MLB Baseball is currently leading all other paid sports events in ticket search activity, followed by the NHL and NBA playoffs.
The 2013 season began on March 31. This year's 162-game schedule, split equally between home and away games for each of MLB's 30 squads, runs through Sunday, September 29.
Currently, the top trending teams are the Texas Rangers, followed by the Colorado Rockies, Detroit Tigers, New York Yankees and San Francisco Giants. Of course, these metrics can change almost daily, says Felina Martinez at online ticket marketplace BuyAnySeat.com.
Roughly 40 games into the season, the Yankees, Tigers and Rangers lead their divisions in the American League, while the Braves, Cardinals and Giants are the National League leaders.
"Part of baseball's current popularity is the season of course, just as football will dominate in the Fall," said Martinez.
"With about 122 games left in the regular season for each team, we're proud to offer sports fans the most complete and continuously updated selection of tickets online, with a worry-free guarantee to protect their purchase."
"To access the full line-up of cheap MLB Baseball tickets now available, customers can go to BuyAnySeat.com and search for MLB Baseball – then select their tickets," said Martinez.
Originating in 1869, Major League Baseball or MLB constitutes one of the major professional sports leagues of the United States and Canada. It is made up of 30 teams—29 in the United States and one in Canada. With the International Baseball Federation, MLB also manages the World Baseball Classic.
The sport consists of teams that play in the American League and the National League. After 100 years as separate entities, the two leagues merged in 2000 into a single organization led by the Commissioner of Baseball.
Currently, there are 2,430 games played in a regular season, with up to 20 more played by each team in the post-season. The sheer number of games played, as well as the sport's 30 teams and American roots, gives MLB Baseball the highest season attendance of any sports league in the world. (Source: wikipedia.org)
To shop for cheap MLB Baseball tickets, visit BuyAnySeat.com.
About BuyAnySeat.com: An online ticket marketplace, BuyAnySeat.com connects sports, theater and other live entertainment fans to an extensive worldwide network of ticket sellers. The site's simplified listings and navigational tools enable fans to easily locate, compare and purchase inexpensive, discounted or lower-priced tickets to virtually all advertised sports and entertainment events around the globe.
The marketplace, which is PCI-compliant and Norton Secured, also provides customers with a complete Worry-Free Guarantee on all ticket purchases. Based in Denver, Colorado, BuyAnySeat.com is a subsidiary of Denver Media Holdings. For more information, please visit http://buyanyseat.com.