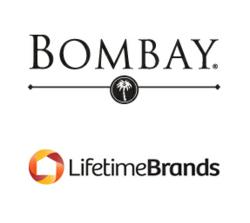 Lifetime will provide new product development and distribution for Bombay under the direction of one cohesive team. We are excited to bring distinctive home furnishings solutions to market for this leading lifestyle brand, Jeff Siegel stated.
Garden City, NY (PRWEB) May 17, 2013
Lifetime Brands, Inc. (NASDAQ: LCUT), a leading global provider of kitchenware, tabletop and home products, and The Bombay Company, a leader in globally-inspired, classic furniture and home décor, have signed a licensing agreement in the Home Décor and Lighting, Wall Décor, Tabletop, Flatware, Pantryware, and Storage and Organization categories. The collections will be introduced in 2013 and will be made available in the United States, U.S. territories, United Kingdom, Brazil and Mexico through Lifetime's distribution network and http://www.bombaycompany.com.
"We are thrilled to announce our licensing agreement with Lifetime Brands," said Wil Hollands, President of Hermes-Otto International USA and owner of The Bombay Company brand. "This partnership will help us continue to build the Bombay brand across multiple channels of distribution with retailers in the U.S. and abroad. Our companies have a shared vision and enthusiasm for Bombay, coupled with a mutually strong commitment to great design and product innovation. Together we can provide retailers with even more exciting merchandise from a powerful, luxury brand that offers globally-inspired designs and classic styling."
"Brands are becoming more important in the furniture and decorative accessories categories, and we are pleased to add the established Bombay brand to the Lifetime family," said Jeff Siegel, President and Chief Executive Officer, Lifetime Brands, Inc. "Lifetime offers expertise under a variety of categories; therefore we can bring new product development and distribution for Bombay's products under the direction of one cohesive team. We are excited to bring a successful range of distinctive and attainable home furnishings solutions to market for this leading lifestyle brand," Siegel added.
The Bombay Company will continue to develop and maintain long-term relationships with key retailers to expand their presence across multiple lifestyle categories. Hermes-Otto International will continue to directly design, source and import in their areas of core competency of furniture, décor, wall décor and seasonal categories.
Lifetime and Bombay will preview select Bombay items at the July Atlanta Gift & Home Furnishings Show with the larger collection to rollout thereafter. The new collections will be available beginning first quarter 2014. The Bombay brand is now available at select specialty and mass retailers and online nationwide. For more information, please visit http://bombaycompany.com.
# # #
About Hermes-OTTO International:
Hermes-OTTO International (H-OI) (http://www.hermes-ottoint.com) is the U.S. division of the Otto Group, a global trading company with extensive holdings in the home furnishings industry. With more than 40 years of sourcing experience, H-OI offers a wide range of products including apparel, sports, lingerie, footwear, furniture, home textiles and electrical/electronic products. The company's worldwide, quality certified supplier network allows access to all major sourcing markets and is characterized by longstanding relationships. In addition to sourcing, H-OI offers a broad spectrum of other services, from assortment creation to financial services, to brick-and-mortar retail, internet and catalog brands. Partners can choose either to commission H-OI with implementing individual modules or handling the whole process chain.
About Lifetime Brands, Inc.:
Lifetime Brands is a leading global provider of kitchenware, tabletop and other products used in the home. The Company markets its products under such well-known kitchenware brands as Farberware®, KitchenAid®, CasaModa®, Cuisinart®, Cuisine de France®, Guy Fieri®, Hoffritz®, Kizmos™, Misto®, Pedrini®, Roshco®, Sabatier®, Savora™ and Vasconia®; respected tabletop brands such as Mikasa®, Pfaltzgraff®, Creative Tops®, Gorham®, International® Silver, Kirk Stieff®, Sasaki®, Towle® Silversmiths, Tuttle®, Wallace®, V&A® and Royal Botanic Gardens Kew®; and home solutions brands, including Fred®, Elements®, Melannco®, Kamenstein® and Design for Living™. The Company also provides exclusive private label products to leading retailers worldwide. The company's website is http://www.lifetimebrands.com.