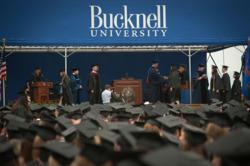 LEWISBURG, Pa. (PRWEB) May 17, 2013
More than 900 Bucknell students will receive their degrees this weekend during the University's 163rd Commencement. Thousands of family members and friends will be on hand for the ceremony, which will be held on the Academic Quad beginning at 10 a.m. Sunday, May 19.
The Class of 2013 will include 732 students receiving a degree from the College of Arts and Sciences, and 158 graduating from the College of Engineering. The University will also award graduate degrees to 29 students. The soon-to-be graduates represent 34 states, the District of Columbia and 20 nations.
This year's keynote speaker is Sunil Gulati, the president of the United States Soccer Federation, a senior lecturer at Columbia University and a 1981 Bucknell graduate. "Sunil Gulati's stellar reputation as a teacher combined with his leadership in professional soccer are a unique combination," Bucknell President John Bravman said. "His journey from his days at Bucknell to one of the most influential figures in the world's most popular sport gives him valuable insights for our graduates as they begin this next phase of their lives."
Senior Beth Eanelli will serve as the ceremony's student speaker. First-year student Mary Oluokun will sing the National Anthem, marking the first time in recent history the song will be performed at Commencement a capella, rather than by an instrumental ensemble.
More than 9,000 family members and friends are expected to attend the celebration to cheer on the Class of 2013. The ceremony will be simulcast in the Weis Center for the Performing Arts and Trout Auditorium in the Vaughan Literature Building, and streamed live on the internet. || Click here for more details.
The second annual Commencement Concert will help kick-off the weekend-long celebration. New Orleans-based jazz fusion band Trombone Shorty & Orleans Avenue will perform Friday, May 17, at 7 p.m. in the Weis Center for the Performing Arts. A complete schedule of commencement events, registration and general information is available at Commencement 2013.
Barring heavy rain or severe weather, the Commencement ceremony will be held on the Academic Quad; guests should dress accordingly. In the event inclement weather prompts a decision to hold the ceremony indoors, the ceremony will take place in Gerhard Fieldhouse. That decision will be made by 7 a.m. Sunday, and an alert will be emailed to the campus community and posted to the University's homepage and social media channels.