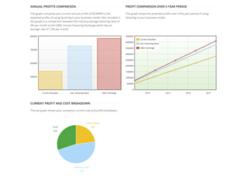 This calculator is a great tool for helping business owners see exactly how much factoring can help their companies in both the short and long term
Manchester, CT (PRWEB) May 17, 2013
CBAC LLC, an invoice financing exchange for small businesses, has launched a new factoring calculator tool on its website. The calculator helps business owners visualize the financial benefits of invoice financing.
Factoring, a type of invoice financing, allows businesses to receive a cash advance by selling their receivables—primarily invoices—to a third party. This is an excellent way for small businesses with poor credit to gain funding, particularly when loans are not an option.
"Our new calculator helps small business owners truly witness the advantages of factoring with CBAC," said Andrew Cravenho, CEO of CBAC. "We offer superior rates over the industry average, which can free up more funds for businesses that need capital. Small business owners today could use all the help they can get, and CBAC offers financial solutions that keep them continually meeting their full revenue potential."
CBAC's graphing calculator displays the differences between a business's current earning scheme, the potential funding available through the industry average factoring rates and the superior Invoice Financing Exchange offered by CBAC. The industry average factoring rates hover around 3 percent, while CBAC offers rates that average 1.5 percent. By allowing the company to handle their invoice financing, businesses stand to experience significant improvements in their short-term funding options.
The new calculator tool allows business owners to provide some general financial information, and then graphs that data to display the average yearly gain from factoring, as well as a five-year projected profit comparison between current figures and those that could be achieved by factoring. It also offers a helpful profit and cost breakdown that can help business owners see exactly where their money is being spent.
"This calculator is a great tool for helping business owners see exactly how much factoring can help their companies in both the short and long term," said Cravenho. "It can sometimes be difficult to get a handle on what this type of financial arrangement can do for you, and the graphs really help to clearly outline it all."
CBAC specializes in business-to-business financing. Some business owners may have difficulty acquiring the necessary loans to keep their companies afloat, and poor credit can make it tough to locate financing. Factoring is a simple and quick way to free up the financial assets these businesses need. CBAC offers better than average rates on it's invoice financing marketplace, giving clients a significant advantage over other lending institutions.
To learn more about the company, go to https://cbacfunding.com.