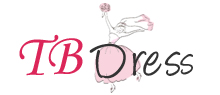 (PRWEB) May 17, 2013
Today, TBdress.com, one of the leading suppliers of women's wedding dresses, has launched its newest collection of wedding dresses 2013. These beautiful outfits are featured on the website and can be ordered effortlessly to avail best prices.
TBdress.com is regarded as the one-stop shop to purchase the most stunning wedding dresses that are inexpensive too. No matter what type of wedding gown the customer is looking for, this online store has something to satisfy every customer's need. Its wedding gowns are manufactured so that they are according to the latest fashion trends prevailing around the globe.
Along with wedding dresses, the company also supplies different types of clothes; the formal wear includes party dresses, evening dresses, cocktail dresses while the casual wear includes T-shirts, shorts and jumpsuits for women. Cheap yet beautiful accessories for ladies are also being offered.
Because it operates in the international market, the company has very strict quality control function. From the fabric used to stitch the clothes to every decorative lace or bead used on the dresses, everything is handpicked by its team of expert designers. Customer satisfaction is their goal and they want to see every woman dressed inTBdress.com's outfits.
This combined with its fast delivery service and facilitating customer service department, TBdress.com stands to be one of the best online shops for buying fashionable dresses for women. In addition to this, the company also offers attractive discount deals on the majority of its products.
TBdress.com is one of the most popular suppliers of women's dresses. It supplies clothes in more than 230 countries worldwide and owing to its high quality and cheap rates; it is ranked as one of the leading vendors.
Their website can be visited at http://www.tbdress.com