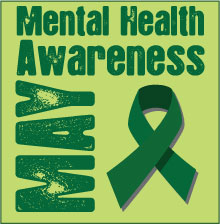 Beaumont, TX (PRWEB) May 22, 2013
May is Mental Health Month and Gulfside Dental wants to call attention to strategies and approaches that help all Americans achieve complete wellness which is essential to living a full and productive life. "Wellness is more than the absence of disease," say Dr. Ashley DeMarco of Gulfside Dental. "It involves complete general, mental and social well-being. And mental health is an essential component of overall health and well-being. The fact is our overall well-being is tied to the balance that exists between our emotional, physical, spiritual and mental health."
Dental health contributes to general health and wellness, self-esteem and quality of life. For many people living with mental illness, dental health may be a low priority when other treatment and health issues must also be addressed. Cost and fear are routinely cited as the largest barriers to care. Additionally, an illness may lead to deterioration of self-care, and an individual may have no experience or history of engaging in dental care as part of his or her overall health practice.
Oral symptoms may be the first or only manifestation of a mental health problem and include facial pain, preoccupation with dentures, excessive palatal erosion or self-inflicted injury. Other symptoms include enamel erosion (sign of anorexia or bulimia) or burning mouth syndrome (sign of anxiety and/or depression).
Certain psychiatric medications have side effects that impact oral health. The most common is a reduction in salivary secretions often experienced as dry mouth. This may show difficulty with speech, chewing, swallowing, poor denture tolerance, problems with retention and stability of dentures, or dental trauma. Other side effects include abnormal, involuntary movement of the tongue, facial muscles, or jaw, and grinding of the teeth.
Our teeth are talking, and we should listen. In this case, their message is clear: the physical and psychological aspects of eating disorders are inseparable, and treatment must be a joint venture. It is of the utmost importance to the patients' wellbeing to acknowledge this connection.
Gulfside Dental offers a comprehensive oral health program, including preventative, cosmetic and reconstructive dentistry for all ages as young as six months old. Gulfside Dental also specializes in: bridges and implants, extractions, dentures and partials, braces, emergency dental care, Snap-On Smile, LUMINEERS, and ZOOM whitening. Gulfside Dental accepts all major PPO insurances, most HMO Insurances, Medicaid, CHIPS, Texan Plus, HealthSpring, Care Credit, Visa, Mastercard, and Discover. Gulfside Dental is located at 4179 Dowlen Road in Beaumont, in the Barnes and Noble shopping center, across from Parkdale Mall. For appointments, please call 409-899-4867.