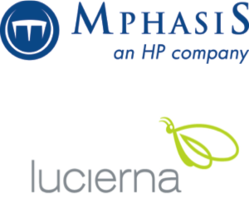 New York, NY and Sunnyvale, CA (PRWEB) May 28, 2013
MphasiS, a leading IT services provider, today announced a partnership with Lucierna Inc., Europe's leading provider of Application Performance Management (APM) solutions. The partnership will bolster MphasiS' Infrastructure Services offering by integrating Lucierna's APM functionality into MOATIS, MphasiS' enterprise infrastructure monitoring system.
Application performance impacts business. Organizations need solutions that can measure end-user experience parameters and perform a root cause analysis of poor performance. To ensure stakeholder satisfaction, it is essential that every transaction be monitored. MphasiS in collaboration with Lucierna now provides a truly comprehensive solution that monitors 100 percent of the transactions and traces the problem to the root-cause down to the code level. This partnership will enable MphasiS to provide its clients insight about performance of applications as well as remediation to ensure minimal downtime.
"Our goal is to surpass customer expectations and provide value beyond just managing existing IT infrastructure for our outsourcing customers," said Raj Velagapudi, executive vice president and head of infrastructure services at MphasiS. "We are committed to providing the full suite of APM solutions including deep diagnostics, complete code monitoring and root cause analysis to make sure that the application performance is optimized. We're very pleased to be working with Lucierna to provide a bundled solution that will benefit our client base."
"We have been successful in Europe and are excited to partner with MphasiS to enter mature markets including the U.S., the U.K., Australia and New Zealand," said Manuel Lopez, CEO of Lucierna. "Through this partnership, we'll be able to offer our customers more enhanced offerings with new features around application performance analytics and optimization."
About MphasiS
MphasiS is a $1 billion global service provider, delivering technology based solutions to clients across the world. MphasiS services clients in Banking & Capital Markets, Insurance, Manufacturing, Communications, Media & Entertainment, Healthcare & Life Sciences, Transportation & Logistics, Retail & Consumer Packaged Goods, Energy & Utilities, and Governments around the world. Our competency lies in our ability to offer integrated service offerings in Applications, Infrastructure Services, and Business Process Outsourcing. To know more about MphasiS, log on to http://www.mphasis.com.
About Lucierna Inc.
Founded in 2009, Lucierna has been serving the European markets for the past two years, winning over major accounts such as Adeslas, CESCE and VidaCaixa in the insurance sector, Telecom Italia and Vodafone in telecommunications, and the Spanish Ministry of Justice in government, among others. End user access to a company's enterprise applications is the means of achieving business objectives, thus the overall goal of application performance management and monitoring is central to doing business. Anything less than perfect performance and 100% availability impacts the bottom line of your business. More information can be found at http://www.lucierna.com/.