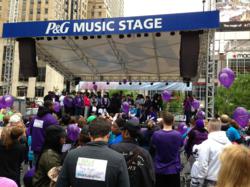 The fight against Lupus will be won through fundraising events like Walk to End Lupus Now, which raises much-needed money for critical medical research.
Dayton, Ohio (PRWEB) June 13, 2013
Foundation Financial Group employees from the corporation's Dayton Branch Office, located at 2745 Miamisburg Centerville Road #2, participated in the 2013 Walk to End Lupus Now Cincinnati event, benefiting the Lupus Foundation of America. Foundation Financial also made a significant financial contribution to the Lupus Foundation of America.
FFG employees walked the paved, 5k course in Cincinnati's Fountain Square to show support and raise awareness for those who suffer from Lupus. The 2013 Walk to End Lupus Now Cincinnati event is the city's largest gathering of Lupus patients and their supporters. The event's purpose is to unite all those affected by Lupus and raise funding for the Lupus Foundation of America. This year, the Walk encouraged Lupus patients to participate. Event organizers provided an alternative Butterfly Stroll, a route without distance markers that could be taken at any pace, for supporters and patients who were unable to walk the full 5k.
"The fight against Lupus will be won through fundraising events like Walk to End Lupus Now, which raises much-needed money for critical medical research," said Foundation Financial Group Event Coordinator John Sanders. "We walked in Cincinnati's Walk to End Lupus Now event to help find a cure for this terrible disease. My favorite moment was when organizers recognized all of the Lupus patients who were participating; seeing all the individuals who were actively supporting the cause while struggling with Lupus was incredibly inspiring."
An estimated 1.5 million Americans have a form of Lupus, and that also includes members of the Foundation Financial Group family. Statistically, Lupus is diagnosed most often between the ages of 15 and 44 and is most prevalent among minorities. Although Lupus can strike men and women of all ages, 90 percent of individuals diagnosed with the disease are women. Lupus is difficult to diagnose because the symptoms mimic those of other illnesses and fluctuate over time; consequently, the disease can take three to five years to diagnose. Many Lupus patients will experience a nervous system complication, ranging from mild confusion or memory loss to strokes and seizures. While Lupus is a widespread disease, awareness for Lupus lags behind many other illnesses.
Foundation Financial employees have been participating in Walk to End Lupus Now events across the nation to raise awareness for the LFA and support the nonprofit organization's mission to eradicate Lupus. Foundation Financial Group considers philanthropy essential to the corporation's continued successful growth. Since 2010, FFG has invested over $1.4 million in philanthropic initiatives geared toward education, health and wellness, workforce development, and environmental sustainability.
"Volunteering, giving back to the community, getting involved just feels great," continued Sanders. "I find it refreshing that my company wants me and my coworkers to strive to make a positive difference in other's lives. We're not only focused on turning a profit. One fundraiser at a time, Foundation Financial is helping our communities become healthier and happier and I love being a part of FFG's mission to improve our world."
About Foundation Financial Group
Foundation Financial Group is a multibillion dollar financial services corporation. FFG offers its customers Best in Class service through its Insurance, Retirement and Mortgage Services. Named one of the fastest growing financial companies in the country by INC magazine, FFG has continued to grow its nationwide presence with over 100,000 new customers per year in 39 states. In addition to the value that Foundation Financial provides every customer, it is also dedicated to its communities and the people who live in them. Through a vast array of philanthropic endeavors the company not only provides significant monetary donations but also fosters a workforce environment that encourages all team members to personally make a difference. Foundation Financial is committed to its strong focus on customer service and community investment as it continues to grow and compete with the largest financial institutions in the world.
Foundation Financial Group reviews all public relations inquiries. For additional information, interview and image requests, contact the Foundation Financial Group Public Relations team.