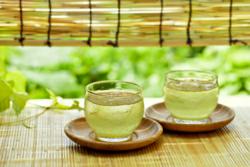 San Francisco, CA (PRWEB) June 06, 2013
Zion Health, manufacturer of Kanwa Detox Products is pleased that Abundant Life Health Food Store Colorado, a proprietor of natural products for over 32 years, will now carry Kanwa Minerals Daily Detox Tea and supplements for natural detoxification. These mineral purification products are uniquely formulated with edible-grade clay; Calcium Bentonite Montmorillonite (Kanwa), for effective, gentle internal cleansing.
Abundant Life Health Food Store focuses on providing high-quality natural products for health and detoxification. According to Abundant Life founder and owner Dyanna Hoffman, "Detoxification is one of the body's most basic automatic functions of eliminating and neutralizing toxins through the colon, liver, kidneys, lungs, lymph and skin." Dyanna highly recommends detoxification of the body and believes that an abundant life is one where you are conscious of what your body needs and give it wholesome and natural sustenance. Abundant Life expands its detoxification specialty products with the natural addition of Zion Health's organic daily detox tea and mineral supplements with purifying Kanwa Minerals.
Kanwa is composed of inert supercharged minerals with negative electromagnetic energy derived from thermodynamic volcanic heat. This magnetic property gives Kanwa the ability to attract positively charged particles such as bacteria, toxins and heavy metals and remove them from the body. According to MIT scientist Dr. Robert T. Martin, bentonite clay also has a large surface area that enhances its adsorption and in turn, its elimination of toxic substances. Kanwa Minerals Detox Tea and supplements is a popular homeopathic detox remedy known to rid the body of harmful bacteria, environmental pollutants, radiation and metals such as mercury that have been ingested or absorbed.
Zion Health is committed to providing high grade- clay based products for natural health and detoxification. Zion Health's organic, natural ancient clay products are available at Abundant Life Health Food Store at 201 E. Main St. Cortez, CO, online at http://www.kanwaminerals.com and at health food markets and co-ops throughout the United States and Canada. Zion provides its consumers with pure skin and body care products that are vegan, free of parabens and aluminum and formulated using certified organic ingredients whenever possible. For more information on Zion Health products, go to http://www.zionhealth.com.