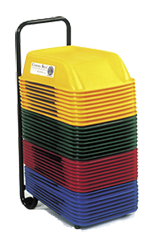 (PRWEB) June 14, 2013
Babystations.com, a trusted online retailer for various childcare products, has just announced a jaw-dropping $389.00 price drop for the KB324. The booster seat set was constructed specifically for cinema-use by Koala Kare, one of the leading manufacturers in the industry. The KB324 features 36 booster seats, as well as a convenient rolling cart that allows quick collection and distribution. Each seat is 14.75" in width, 5" in height, 16.25" in depth, and weighs only 3 pounds. Like all other Koala Kare products, the KB324 was designed to be safe, durable, and functional. Each seat is made of FDA-approved high-density polyethylene plastic, which makes it easy to clean and incredibly sturdy. As an added safety feature, non-slip Velcro is installed to keep each seat securely in place. The seats come in assorted colors including red, blue, yellow, and green. With the KB324, young theatergoers can completely enjoy the entire movie – and not just the upper half of the screen.
Although it is best known for selling the ever-popular baby changing stations, Babystations.com also sells highchairs, booster seats, diaper dispensers, bed liner dispensers, and other childcare products. The company was started by a group of proud dads, namely Cameron, Matt, and Jerry. They proposed one simple reason why their website could be superior to the other competing outlets. Contrary to the companies who simply don't have actual parenting experience, Babystations.com is run by real dads who know what a child needs firsthand.
Moreover, the daddy trio has also proven to be quite sensitive to the plight of other parents. They don't just sell quality products; they also offer world-class customer service. In fact, the recent price drop can be considered a testament to their dedication. Instead of enjoying the increased profit brought about by savings from recent operational improvements, the company has resolved to pass on these savings to its valued customers.
About the company: Babystations.com is managed by Ekom.ca. It is an online retailer with a long history of trusted service. They sell a wide array of products that include baby changing stations, child seating, and other childcare accessories. Despite being a product-based business, the company understands the value of providing quality customer service. They provide detailed product information, give out the best prices, do their best to ease purchasing difficulties, and respond to complaints, questions, and products in the timeliest manner possible.