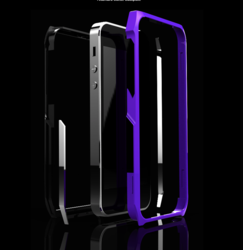 The case for those who don't like cases!
Miami, FL (PRWEB) June 10, 2013
The company is set to release an upgrade to its previously released i5 Slimline Flex Case: the i5 Slimline Pro Case for Apple iPhone 5. The case was revealed earlier in April by the company's president and is now available for pre-order through the Casemachine online store. Casemachine i5 Slimline Pro for Apple iPhone 5 will be shipped to all parts of the world starting May 27.
The Slimline Pro is a polycarbonate-aluminum hybrid which is intended for those who don't want a soft touch feel on their phone. As opposed to the previously released i5 Slimline Flex Case, Casemachine now goals to provide a stiffer look and feel by replacing the silicone with high impact polycarbonate plastic.
Casemachine Slimline Pro Case for Apple iPhone 5 will be the first polycarbonate-aluminum hybrid which will come with a 2 piece snap-on assembly. The concept was also presented at the International Consumer Electronics Show 2013 earlier this year where it received notable attention.
On top of the Casemachine i5 Slimline Pro Case for Apple iPhone 5 is a logo power button with the stylish "C" logo-like structure. The two pieces; the bezel and the frame are made from polycarbonate, a strong, robust and durable plastic widely used on premium devices today. Polycarbonate is lightweight and is also used to provide dependable scratch, shock and fall protection.
The front bezel is available in eight different shades, such as Vantas Red, Jet Black and Polo Green. The polycarbonate back frame is available in two primary colors; Black and White. For further customization, iPhone users can select the color of the aluminum inlays, which feel premium with rich shades of Black, Red and Silver.
The Casemachine i5 Slimline Pro Case for Apple iPhone 5 comes with a Suede backplate which is responsible for uncompromised scratch resistance for the phone's rear panel. It also adds further detailing to the back and gives the phone a much elegant feel to the touch.
Casemachine has specifically designed the Slimline Pro Case for Apple iPhone 5 for those who prefer their phone without a bulky case. The Slimline Pro incorporates the usage of lightweight materials such as polycarbonate and suede to provide unbeaten protection and great style to the iPhone. The case only weighs 12 grams and has a width of just 10.8mm which are goaled to deliver an elevated user experience without the unnecessary bulkiness, unlike other cases.
For users looking for a completely customized experience, the dimensional backplate v2.0 is also available through the Casemachine website. The optional backplate comes in four shades and has stylish curves along with the "Casemachine" logo embedment.
Further information on the Slimline Pro Case for Apple iPhone 5 can be inquired via Casemachine's customer support at (786) 245-4466.