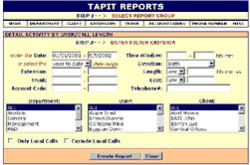 Milwaukee, WI (PRWEB) June 13, 2013
Telephone hacking is a threat all companies face. Hackers gain access to their phone systems and then sell minutes of talk time to unsuspecting customers. This can result in phone bills large enough to shut down a small company. Increasing phone system security should be on every company's to-do list. Telcom & Data is excited to introduce a product that accomplishes this task. Tapit Call Accounting Software monitors all phone calls made on the system and can tell if any are out of the ordinary. The software picks up on calls made after business hours or internationally. Notifications will then be immediately sent by email to the person in charge.
Besides offering protection from telephone hacking, Tapit Call Accounting Software tracks employee phone usage. It produces reports based on their call activities. The reports include call volume by hour, most number of calls made per extension, most expensive call, longest call and much more. All reports are then sent by email on a daily, weekly, or monthly rate. These reports determine if employees are efficiently using their time. Companies using Tapit Call Accounting Software have experienced a 10%-30% reduction in telephone costs. Because employees know their calls are being monitored, they make and receive less personal calls.
For more information on Tapit Call Accounting Software visit Telcom & Data's website or call 800-335-0229.
About Telcom & Data:
Since 1996 Telcom & Data has been providing thousands of telecommunication solutions to organizations around the world to measurably improve communications. The company is a leader in server racks and business phone systems. Telcom & Data maintains a network of over 1600 technicians with locations in Chicago, Milwaukee, and Miami. Rack-cabinets.com offers a wide variety of data center equipment and is powered by Telcom & Data.