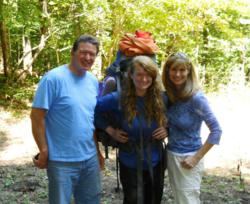 "The simple act of being outdoors can work wonders," commented Carla Shorts MS, LPC/I, NCC and Primary Therapist
Lake Toxaway, NC (PRWEB) June 11, 2013
By Presidential Proclamation, June is celebrated as National Great Outdoors Month. Trails Carolina, a therapeutic wilderness program for struggling teens and youth, supports the efforts of our federal and state governments to reacquaint teens with the benefits of being outdoors.
Trails Carolina utilizes the wilderness in the beautiful mountains of Western North Carolina to help adolescents and their families regain control of their lives' and step onto a brighter path. It is our belief and experience that a natural outdoor environment is the ideal setting for teens to evaluate their life choices and develop tools for success.
"Any good coach will tell their players that the key to success is in getting back to the basics," explains Carla Shorts MS, LPC/I, NCC and Primary Therapist at Trails Carolina wilderness program. "We provide a space for teens to get back to the basics of life, free from the distractions and hectic schedules of modern living. The simple act of being outdoors can work wonders: children with high anxiety can develop a sense of calm; the effects of ADD can be lessened and attention span improved; and the unbending rules of nature encourage kids to take accountability for their actions."
Society's lack of quality time in the outdoors gained national attention in 2005 when Richard Louv published his book, "Last Child in the Woods: Saving our Children from Nature-Deficit Disorder". In it, he brought to light the alarming effects of limiting our children's exposure to natural settings. He also outlined the numerous benefits to getting outside and concludes his book with concrete ideas on how to put theory into practice.
Here are a few suggestions from the staff at Trails Carolina therapeutic wilderness program on how you can increase your time outdoors with your child:

Plant a garden and tend to it together
Go on a walk or hike in a nearby forest or arboretum, along a lake or river, or other natural ecosystem
Sign-up for you and your child to attend a family camp
Instead of going to a water park, rent a tube or canoe and spend the day floating down a river
Go for a bike ride through the countryside, or try mountain biking!
Bring nature indoors by planting and decorating with houseplants
Try outdoor activities that might be new to you like fishing, horseback riding, rock climbing, rafting, birding, tree identification, caving, etc. (Many local outfitters will allow you to rent gear and/or hire guides if needed)
For additional information on how Trails Carolina can help your child reconnect with the Great Outdoors, please visit our website at http://www.trailscarolina.com, or call our admissions team at 888-387-2457.
###
Trails Carolina (http://www.TrailsCarolina.com) uses decades of experience to serve provide teens a clinically driven, family focused therapeutic wilderness program. Trails helps teens address the problematic behaviors and as a result create lasting change in the way families interact. The Trails staff integrates research, experience, and a values-based team approach in wilderness and residential settings to help teens develop lasting coping skills. Trails offers programs for boys and girls ages 10 – 13 and 14 – 17. For more information about Trails Carolina, please visit our website at http://www.trailscarolina.com or call us toll free at (800) 975-7303.