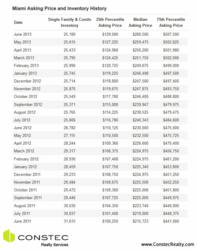 Demand is increasing, supply is diminishing and prices are starting to rise,
Miami, FL (PRWEB) June 14, 2013
As of June 10, 2013 there were around 25,300 single-family and condo homes listed for sale in Miami Florida. The median asking price of these homes for sale was about $260,000. The inventory of homes for sale has been reduced by 5.5% and the median price has gone up by 13.0% since this time last year.
As homes hit the Miami real estate market, it is amazing to see how fast they are snapped up. Many of the luxury real estate listings are being sold within the first week of being listed with the closing happening quickly to follow. Multiple bids flood in so sellers end up getting their asking prices or above. It is starting to feel a little like the housing boom days of 2005 and 2006.
This is where Constec Realty comes to the rescue. Our experienced team of professionals, along with our ever improving Miami real estate website, are there to help guide you toward your goal of buying a luxury home.
Demand for luxury homes is increasing, supply is diminishing and prices are starting to rise, steeply. Average prices are up year over year when compared to last year.
The number one indicator of a market's health and balance is the number of months of supply. Six months of inventory, or six times the number of homes that sell in a month, makes up a balanced market. Recently there was only a 4.8 month supply of single-family homes and a 5.8 month supply of condominiums on the market in Miami-Dade county. There was a 3.6 month supply of single-family homes and a 4.4 month supply of condominiums in nearby Broward county.
How is this little explosion of buying different from the previous housing boom of 2005 and 2006? There is one important difference, they are a lot stricter on how they hand out loans today. You need cash and actual equity to get a loan. The days of zero-down loans based on inflated income and assets are long gone.
What is driving this current low inventory/high demand situation? Low interest rates, 3.6% for a 30-year fixed-rate mortgage, are also tempting more and more people to invest in a home. Banks are starting to ease up on those strict terms for mortgages, mortgages with less than 20% down are becoming more common. This is allowing more people to enter the market. Now, potential buyers notice home prices rising and they are starting to feel a strong sense of urgency to act fast or miss out on this era of low interest/low prices. The previous boom and bust is having an effect on this as well. There are currently 40% of homes still underwater, they have a debt greater than their value. Potential sellers in those 40% aren't able to come to the market.
If all that wasn't enough, there is a new wildcard factor. Miami real estate is viewed by those in foreign countries as a very safe investment, somewhere to park their money while their country experiences economic distress. Foreign investors and U.S. financial institutions are buying up homes at an astonishing rate. Miami is a close second to Los Angeles for the number of foreign investors who are shopping for U.S. properties.
While this period of frenzied buying in a depleted Miami home inventory, working with experienced and seasoned luxury Miami real estate professionals like the Constec Realty team is all the more important. More than ever, you need to be first on the scene when a luxury home hits the real estate market. We can monitor listings, that fit the client's criteria, when or before they hit the real estate market thus ensuring that you get a leg up on your competition.
Visit our user-friendly, interactive Miami luxury real estate website, http://www.ConstecRealty.com, for more information.