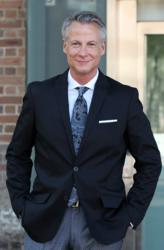 Los Angeles, CA (PRWEB) June 17, 2013
The Blank Theatre, which is committed to enriching Los Angeles cultural life and awareness of social issues through the production of first-rate theatre, has today announced the appointment of Michael Nicklin, a Los Angeles-based impact entrepreneur, business consultant, and independent producer, to its Board of Directors.
Actor Noah Wyle, the Blank Theatre's Artistic Producer and Board Chair, welcomed Nicklin with open arms. "Our Board of Directors was particularly interested in adding Mr. Nicklin to its roster based on his passion for social enterprise and his history as an entrepreneur of finding creative ways to apply for-profit business strategies to non-profits. His personal views on high-impact philanthropy are an ideal match to our fundraising mission – to appeal to those individuals who wish to maximize the social good of their philanthropy."
One of the many integral tasks Nicklin is eager and committed to taking on is helping to further develop and increase awareness of the theatre's socially conscious outreach programs in the Greater Los Angeles area, as well as garnering increased donor support of its programming mission to raise awareness of social issues and potentially affecting a change in social consciousness within the area. Nicklin believes that the Blank Theatre "consistently exhibits a keen awareness of its role in relation to both its artistic and geographic communities by providing programming that entertains, educates and empowers."
"The Blank Theatre's consistent artistic vision under the helm of founding Artistic Director Daniel Henning has proven to be solidly aligned with my view of a well-rounded vision focusing upon the work of contemporary playwrights," says Nicklin. "Theatre is more than just a tool for entertainment. It is particularly well designed to stimulate discussions about important societal issues and foster change at the local, national and global levels."
As part of his core mission, Nicklin will also be working to further publicize and gain institutional and corporate funding to support the theater's "Living Room Series," which according to Sarah A. Bauer, Executive Producer of the series, has presented more than 400 workshop presentations of new plays to the public since 1991.
"I attended most every performance in The Blank's 'Living Room Series' for new play development this past season and was particularly impressed with the socially relevant choices of plays made by the program's Artistic Committee," Nicklin states. "These contemporary plays addressed compelling topics including racism, theology, political corruption, sexual orientation, the destructive power of gossip and prejudice, and global conflict. One highly memorable play, written by an Israeli dramaturge who flew to LA to see her play workshopped, focused on the aftermath of the Sierra Leone civil war. This experience with the past LRS season near singlehandedly moved me to accept this board nomination."
Says Bauer, "Plays are one of the social conduits reflecting and commenting about society and the times. When presented in a thought-provoking, engaging and honest way, I feel that theatre can be used to open people's minds, raise awareness of social issues, dispel long-held misconceptions, and be a catalyst for social awareness and impact."
"Theatre is generally thought of as purely a source of entertainment," says Henning. "However, I believe that theatre can be the perfect vehicle to inspire critical reflection, provide education about current social issues and to ultimately inspire social change while still being entertaining. Compelling theatre is meant to provoke a very instinctive, visceral reaction from the audience. After the show is over, the work of the audience member has just begun."
"I believe that theatre is a powerful art form that can inspire others, help them to imagine the possibilities and push them to ignite social change," adds Nicklin.
For more information on Michael Nicklin, visit his official website at http://www.michaelnicklin.com. For more information on The Blank, visit http://www.theblank.com, or call 323-871-8018.