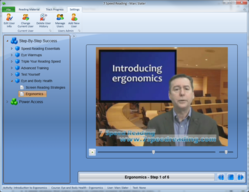 This is the latest in the company's efforts to have their software readily available for all versions of Windows users.
New York City, NY (PRWEB) June 18, 2013
7 Speed Reading™ has been re-released for 2013 with extra features, one of them being its compatibility with Windows 8, as eReflect revealed today. The 2013 version of 7 Speed Reading™ is now available to Windows 8 users, according to its developers. This is the latest in the company's efforts to have their software readily available for all versions of Windows users.
eReflect, the parent company of 7 Speed Reading™ announced today that the 2013 version of their software provides optimized speed reading results with very limited effort. As they suggest, the user can not only enhance their reading skills by up to 3.4 times but can also enhance their comprehension of what they read. The combination of expertise and professional reading experts is what created a software that seamlessly improves reading speed and comprehension, the company emphasized.
Some of the main differences that set 7 Speed Reading™ 2013 apart from other speed reading software programs is its across-the-board approach to learning. 7 Speed Reading™ software includes 7 different reading strategies— as its name implies— in order to achieve such high speed reading results. The strategies include subvocalization elimination, which means eliminating the counterproductive habit of sounding words out as they are being read, and another strategy called regression elimination, which is the reading habit of going back to re-read sentences or even whole paragraphs because of the reader's lack of focus on to the text.
Other advanced strategies the software uses to improve speed reading skills are fixation elimination and optic-nerve maximization, both of which are prerequisites in gaining enhanced reading capacities that increase the user's reading potential. As the developers at eReflect explained in today's statement, fixation elimination means the reader learns to read big groups of words together, rather word by word. Optic nerve maximization aims at enhancing the relation and fast connection between eyes and brain, which results in faster comprehension of the material read. In their brief statement today, eReflect noted that from now on Windows 8 users can also benefit from using the speed reading software for increasing their reading speed and comprehension through these scientifically-designed strategies.
For more information about the benefits of using 7 Speed Reading, please visit the official website at http://www.7speedreading.com.
About 7 Speed Reading™
7 Speed Reading is the only modern speed reading software that uses the latest technology to produce superior results.
The software provides its users with a new way to master speed reading that guarantees three times the reading speed along with improved memory and comprehension.
The software is poised as the most comprehensive speed reading system anywhere. It contains seven learning strategies, fifteen software activities, video training, advanced tracking capabilities and many more exciting features.