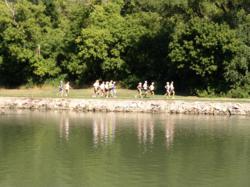 Lockport, NY (PRWEB) June 11, 2013
August 17 will mark the fourth annual running of the Summer Beast of Burden 100/50 Mile Ultra Marathon, a long-distance running race along the historic Eric Canal Tow Path.
Racers will start at Widewaters Marina in Lockport, N.Y. at 10 a.m. on Saturday morning, August 17, and travel 12.5 miles along the Erie Canal Tow Path to the turn-around point in Middleport, N.Y., where participants are provided sports nutrition and medical aid, if needed. Aid stations will be stocked with a wide variety of food and cold beverages.
Upon returning to Lockport along the same route, each runner will have completed one 25-mile "loop." Racers sign up to complete either two or four loops of the course to accomplish their 50- or 100-mile goal distance.
The field includes world class ultra marathon runners from all over the world. Over 120 racers typically enter the Summer Beast of Burden with about a 60 percent success ratio. Cutoff times will be strictly enforced. Runners must finish the 100-mile race in 30 hours (by 4 p.m. on Sunday).
Racers and volunteers can register at http://www.beastofburden100.com. Due to risks involved with this race, all 100-mile participants are required to have completed at least one official 50-mile race within the past 12 months. This will be cross checked with UltraSignUp's extensive database. Registration will be limited to the first 200 runners.
There is no race day registration. Packet pick up will be from 8-9:30 a.m. on the morning of the race at Widewaters Marina.
About the company:
The Beast of Burden 100/50 Mile Ultra Marathon is a long-distance running race that takes place twice each year, Winter & Summer, beginning and ending in Lockport, N.Y. Runners may choose to attempt the 50-mile or 100-mile distance. Competitive and recreational ultra distance runners from across the United States, Canada, South America and abroad have assembled to mark this race as a growing tradition and world class running event.