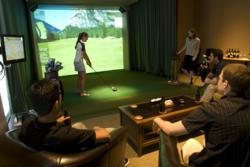 Pittsburgh, PA (PRWEB) June 12, 2013
To appeal to the technology generation, student residences across the country are installing high tech amenities like High Definition Golf simulators.
"Installing an amenity like HD Golf is a smart business decision for housing management," says Todd Richardson, President & CEO of Interactive Sports Technologies, the company that develops the golf simulators. "Following location, technology and amenities are two of the biggest draws for students deciding where to live."
Over the last couple years, many student housing complexes have built cyber cafes, gaming lounges and internet bars. This summer, some are adding HD Golf to the mix. "Rather than sitting at a computer, this is one tech amenity that gets students up and moving around," says Richardson. Several studies out this year, have linked physical activity to improved academic performance, thus more campuses may soon be looking to install this type of amenity.
It's already proving a big hit at schools with the system. "When you play HD Golf, you are playing real golf. It's much more social and interactive than video games," says Richardson. Students can play against each other or setup virtual tournaments and competitions against other schools. Richardson says that non-golfers enjoy playing HD Golf, as it is much less intimidating than playing on a course.
The company recently added new games with wide student appeal like a poker-themed skills game. With a floor-to-ceiling wide-screen, the system also doubles as a theatre for watching movies or playing video games.
Residences aren't the only place you'll see this ground-breaking technology on campus. A number of University golf teams have installed HD Golf over the past year, including the top ranked men's NCAA golf team from the University of Texas in Austin. With integrated professional instruction tools, the simulators provide instant feedback and detailed analysis after every swing, helping golfers improve their game. The teams are also able to train year round.
"PGA Tour pros and top ranked golf instructors have been using our system for a number of years. Now this advanced tool is catching on quickly among Universities," says Richardson. "They can train through rain, snow or the summer heat of Texas."
About High Definition Golf™
HD Golf™ is the only golf simulator that looks and plays like the real thing. Spectacular photo-realistic capabilities capture the true beauty of some of the world's most renowned golf courses from Pebble Beach® to St. Andrews®. Revolutionary image processing software combines high resolution digital imagery and satellite data into 3D models of golf courses that not only look real - they are completely accurate everywhere on the course. For more information visit: http://www.hdgolf.com.