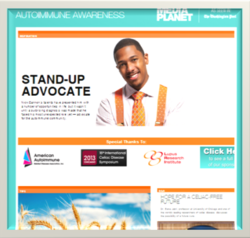 Autoimmune disease impacts all aspects of a patient's life.
New York, NY (PRWEB) June 12, 2013
Autoimmune Awareness campaign hits newsstands- We go to extreme measures to protect ourselves from harm. But what do you do when your body is your own worst enemy? For the 50 million Americans suffering from autoimmune disease this nightmare is a daily reality. Despite autoimmune disease affecting more people than cancer and heart disease combined, these diseases receive only 3% of federal funding, greatly limiting the availability of necessary research.
Today, Mediaplanet releases its Autoimmune Awareness campaign within The Washington Post and across major online platforms in partnership with some of the biggest names in the industry. The campaign demands that national recognition be given to the autoimmune community, and that more action is taken and further research is funded.
Autoimmune disease impacts all aspects of a patient's life. While the symptoms are as different as the patients themselves, there is a common denominator that unites what has for far too long been a disjointed community: the body is attacking itself. When the upwards of 100 different disorders are viewed individually, we find ourselves treating the symptoms rather than the cause. Yet over the past 20 years, a number of positive breakthroughs and discoveries have been made as an outcome of the realization that all autoimmune diseases fall under one umbrella, and should be approached as so.
While tremendous work has been done, there is still no available cure and no known reason for why one's body would fight itself. With the distribution of more education and access to more research capabilities, a cure may someday be in reach. Until then, the community of patients, caregivers, and researchers continue to need support and understanding, and for this conversation to be kept top of mind.
Special thanks:
This campaign was made possible with the partnership of a number of leaders in the autoimmune space, including: The American Autoimmune Related Diseases Association, Nick Cannon, JDRF, University of Chicago, American College of Rheumatology, Multiple Sclerosis Association of America, Cleveland Clinic, Faustman Labs, Lupus Initiative, Lupus Research Institute, Celiac Disease Foundation, Scleroderma Foundation, Swank MS, Acorda, National Alopecia Areata Foundation and Celgene.
Contact: Nathan Tuchman
Office: 646-755-7950
Cell: 914-584-5569
Email: Nathan.Tuchman(at)mediaplanet(dot)com