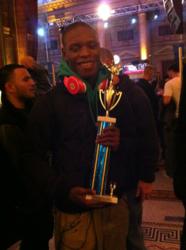 "I know this is going to bring my overall skill set to the next level!"

- Peter Petties, Crazy 88 Fighter
Elkridge, MD (PRWEB) June 13, 2013
Crazy 88 fighter, Peter Petties, is about to embark on a three and a half week training camp at the world renowned training facility Sitsongpeenong. The facility is located on the outskirts of Bangkok and will serve as preparation for his fight on the local scene in Thailand.
Sitsongpeenong is a premier gym on the rise in Thailand. It is a fully equipped, world class facility with accommodations located in Bangkok. It caters to Muay Thai enthusiasts of all levels. Sitsongpeenong is considered a fighters gym with authentic Muay Thai training at the most elite level. Their team of young, professional Thai Boxers regularly fight in Bangkok's premiere stadiums as well as internationally. The camp's location and environment allows students to fully focus on their training free from outside distractions. The camp looks to maintain a low student to trainer ratio of no more than 3 to 1 and strictly limits the number of guests staying there.
This is a big opportunity for Peter who is working nonstop to enhance his striking skills to later compete in Mixed Martial Arts (MMA). By competing in pure striking, the experience gives him an edge up on competition mentally in MMA. This is a unique system that Crazy 88 has implemented to help the development of their fighters. Most recently professional fighter, Jon Delbrugge, spent a few weeks in Thailand and raved about the level of striking there.
In regards to the trip Peter states, "I'm still shocked that soon I'll be in the mecca of striking and working with some of the best. It's weird to think this this time last month I was in college taking finals and then fast forward to now... I'll be training and fighting alongside some of the best in the world. I know this is going to bring my overall skill set to the next level!"
While staying at Sitsongpeenong, Peter will be documenting his trip. For updates and more posts and to follow the progress of his trip be sure to check out http://www.Crazy88BJJ.com