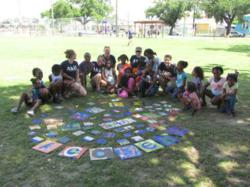 New Orleans, LA (PRWEB) June 13, 2013
Working together with several local community groups, New Orleans Area Habitat for Humanity (NOAHH) capped off its spring of neighborhood cleanup efforts with the Great American Cleanup Day this past Saturday, June 8, 2013. Volunteers and NOAHH staff spent four hours cleaning up trash and clearing sidewalks around Bunny Friend Park in the Upper Ninth Ward with the help of Keep Louisiana Beautiful, a state organization that combats litter and works toward neighborhood improvements, which also sponsored our Attack the Block events this spring.
A total of 32 volunteers collected 29 bags of trash, removed nine tires, and cleared five sidewalks on Saturday, raising the totals for 2013's neighborhood cleanup efforts to 331 bags of trash, 103 tires, and 71 cleared sidewalks. Volunteers also built three benches and two raised garden beds for Sankofa Community Development Corporation, a local non-profit seeking to increase access to fresh fruits and vegetables for the Ninth Ward.
Partners in the Great American Cleanup Day included HandsOn New Orleans, Akili Academy of New Orleans, Bunny Friend Neighborhood Association, New Orleans Recreation Development Commission, and the New Orleans Department of Sanitation.
"New Orleans Habitat has always kept the bigger picture in mind when working across the metro area," stated Jim Pate, Executive Director, NOAHH. "Communities in which we have built can benefit tremendously from a combination of new home construction and neighborhood clean-up/repair projects. Keep Louisiana Beautiful's partnership allows us to combine these projects in a way that just makes sense."
NOAHH's Attack the Block Program 2013 included four major projects. The first project was in New Orleans East on March 8, followed by projects at A.L. Davis Playground and Bunny Friend Park in the Upper Ninth Ward on March 15 and March 22, respectively. The final project occurred on April 5 in Frederick Square, Hollygrove.
In 2012, NOAHH held four neighborhood cleanup days focused in Carrollton, Hollygrove, the Upper Ninth Ward, and the Seventh Ward. Volunteers and staff collected 525 bags of trash, removed 241 tires and other large items, cleared 108 sidewalks and cleaned 186 storm drains during the four half-day projects in spite of local spring showers which kept the effort very wet.
Keep Louisiana Beautiful, Inc. is affiliated with Keep America Beautiful, a national community improvement organization, and their mission is to "promote personal, corporate and community responsibility for a clean and beautiful Louisiana." Keep Louisiana Beautiful focuses on education, enforcement, awareness, and cleanups. Their Healthy Community Grant program specifically focuses on aiding groups in addressing litter in their communities.
New Orleans Area Habitat for Humanity, an independent affiliate of Habitat for Humanity International, is a 501(c) 3 non-profit organization. NOAHH builds new houses in partnership with sponsors, volunteers, communities, and homeowner families to eliminate poverty housing in the New Orleans area while serving as a catalyst to make decent shelter a matter of conscience and action. Since its inception in 1983 NOAHH has built 497 new homes for low-income families in need of adequate shelter. NOAHH plans to continue to build homes in Orleans, Jefferson, St. Bernard, St. Charles and Plaquemines Parishes. http://www.habitat-nola.org