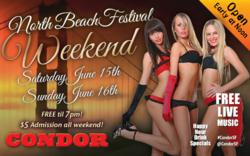 San Francisco, CA (PRWEB) June 13, 2013
Rated as one of the best topless clubs of San Francisco, Condor Club is offering special happy hour drink specials and discounted admission on Saturday, June 15 and Sunday, June 16 during the North Beach Festival.
Guests can enjoy free admission until 7 pm all weekend, and $5 admission after that, as well as free live music on both days. Condor Club will also open early at noon for some seriously sexy adult entertainment.
The 59th Annual North Beach Festival is one of the country's original outdoor festivals, located in one of San Francisco's most historic neighborhoods. Home of the beat generation and the city's Little Italy, North Beach also plays host to San Francisco's red-light district, featuring popular adult clubs like Condor Club.
This year, the North Beach Festival will feature "over 125 arts and crafts booth, 20 gourmet food booths, two stages of live entertainment, Italian street painting, beverage gardens, kid's chalk art area and the blessing of the animals," according to the event website.
The festival is from 10 am to 6 pm rain or shine, and Condor Club will open at noon to provide sexy entertainment for the adult crowd.
For more information about Condor Club's North Beach Festival party or to make a reservation, visit condorsf.com or call (415) 781-8222.
About Condor Club
San Francisco strip club, Condor Club, has been dubbed "San Francisco's Original Gentlemen's Club since 1964" Condor has been a popular destination for topless dancing and through the years, has maintained its reputation for housing lovely ladies with spunky, fun-loving attitudes.
Condor Club has great drink deals for happy hour during the week including "Beat the Clock Mondays" with discounted drinks available at 6 pm with $3 well drinks, $4 Kamikazi's, $4 imported beer and $5 Jagerbombs. The price for each drink goes up one dollar every hour. Beat the clock to get the best deals!
Condor Club is located at 560 Broadway Street in San Francisco. For reservations call (415) 781-8222.