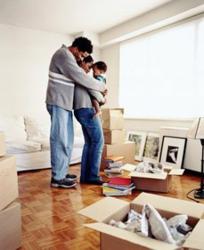 In addition to the saving, people also get to pack at their own convenience and only contact us when they are done with packing and are ready to move.
(PRWEB) June 13, 2013
Apartmentsmovers.com has an online directory of movers who have been offering customers affordable full service moving services. Now, with the introduction of the box rental services, residents can hire a box and pack in their own time and convenience. Full service moving, where one pays for a mover to pack their belongings and relocate them is becoming too expensive for many moving customers. Now people only have to rent the size and quantity of boxes they need to fit all their goods and then do the packing themselves. The strong boxes are reusable and can be used by another person to pack their own goods for transport.
Using this box rental service, people are able to cut the cost of moving by almost half because they don't have to buy packing boxes or pay for the cost of packing. Once a person is done with loading their belongings to these boxes, they then move using their own vehicles or contact http://www.apartmentsmovers.com, to find a mover of their choice who will come and do the loading and transportation. Once they arrive at their new destination, their belongings are unloaded and they call the mover to come and pick up the boxes from their new location.
"This sharing of packing boxes means that people get to save a lot because they do not have to buy boxes which they will then have to discard after use. In addition to the savings, people also get to pack at their own convenience and only contact us when they are done with packing and are ready to move", explained Jonathan Miller, Marketing Manager at Apartmentsmovers.com, when introducing the new box rental service. He further explained that "if one desires, they can have the boxes delivered to their home by our staff and again picked up from their new location when they are done with them free of charge. Once the boxes are returned, they are properly cleaned, sanitized and repaired before they are rented out to another person."
The boxes are available in different sizes to ensure that all the customers get what they need exactly. This means that one will find a box to fit their needs whether they need it for a commercial, business or residential move. One can also rent these boxes for storage purposes only, without a move involved. Apartmentsmovers.com will rent out these boxes for a period of two weeks. If however one needs the boxes for longer, they can inform the company so that they can negotiate for new prices.
Apartmentsmovers.com is a moving company directory that offers affordable full service moving services. Now with the introduction of this box rental service, customers will find that moving has become more affordable. All they have to do is rent the boxes, do their own packing and moving and when they are done, they just need to call the company to come and take away the boxes.