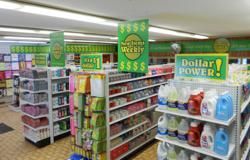 Stockton, California (PRWEB) June 12, 2013
Your Dollar Store is now open at 2828 Country Club Boulevard in Stockton. The store is locally owned and operated by Satinder Bal and offers a wide range of affordable and high-quality essentials and accessories.
Your Dollar Store stocks baby items and toys, balloons, batteries, candles, cleaning supplies, crafts, food items, frames, hardware, hair accessories, health and beauty products, houseware, jewelry, paper products, party supplies, pet care items, toys, office supplies - and much more – all at heavily discounted prices.
Mr Bal saw the need for a discount merchandise outlet in the area and contracted with Dollar Store Services (DSS) of Las Vegas, Nevada to develop his store. DSS is an independent non-franchise business development firm specializing in assisting entrepreneurs with their retail startups. DSS provides a complete turnkey service, which includes financing, site and lease assistance, fixtures, merchandise, buildout, training, and free long term support. According to John LaFronz, DSS General Manager, "Satinder was involved in every stage of his store's development - from choosing the location and merchandise, to undergoing extensive training. His hard work and dedication are sure to make Your Dollar Store a wonderful addition to the Stockton community. We wish him every success!"