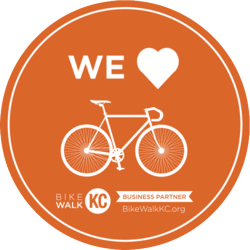 (PRWEB) June 12, 2013
BikeWalkKC is launching a new program to recognize businesses that go the extra mile to support the cycling community, and they need the community's help. From June 7 until July 3, anyone can nominate a bicycle friendly business on BikeWalkKC's website. BikeWalkKC announced their first bicycle friendly business, Bier Station, a craft beer bottleshop and bar in Waldo, at an event on June 4.
BikeWalkKC led a group of approximately fifty cyclists on a casual bike ride from Bier Station, and they made the announcement shortly after. John Couture, owner of Bier Station, says they recently invested in a large bike rack because they want to support cyclist customers however they can. "Bier Station supports community sustainability -- like encouraging a more bike-friendly environment," Couture said.
Some features of a bicycle friendly business include:

Ample and well-placed bike parking
Well-maintained sidewalks and paths to the business
Near transit routes
Discounts for people who arrive on foot or bike
Support for local walking and biking clubs, groups, and causes
Programs to encourage employees walking, biking, and taking transit to work
Eric Rogers, Executive Director of BikeWalkKC, says there are numerous benefits for businesses to become bicycle friendly. "Businesses that encourage cycling in the community play a vital role in making the Kansas City area a better place to live, work, and play. Their investment in the cycling community is an investment in the future of a healthier city, and we want to reward their efforts," Rogers said.
Nominated businesses will undergo a "bike friendly review" and upon approval will receive an orange window decal that shows their support of BikeWalkKC. In addition, bike friendly businesses will be listed on the BikeWalkKC website. Residents can fill out the nomination form on the BikeWalkKC website until 11:59 p.m. July 3.
###
BikeWalkKC is the unified voice for active living, promoting a healthy, safe and accessible outdoor experience for all in a vibrant, engaged community. BikeWalkKC is a member-supported organization that works to make Greater Kansas City a safer and more accessible place to walk, bicycle, live, work, and play.