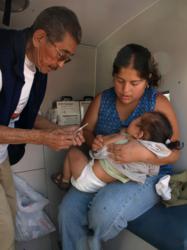 "This support is critical for PCI to continue its work with poor families in Tijuana's most vulnerable communities. We are grateful to be able to continue the work our founder started there 50 years ago," George Guimaraes, CEO of PCI.
Tijuana, Mexico (PRWEB) June 13, 2013
In response to the need for critical operating funds for PCI Mexico's Well Baby Clinics program, former Tijuana mayor and PCI board member Kurt Honold gathered a group of benefactors last week in Casa Baloyán in Tijuana to raise support for the operation. The event raised $150,000 for the clinics, and among those government officials in attendance were Tijuana mayor Carlos Bustamante, US Consul General Andrew S.E. Erickson, Honorary Consul for Japan and Carls Jr. executive Luis Lutteroth, Honorary Consul for the U.K. Erik Baloyán, and former US Ambassador and PCI board member Kevin Moley. The event was also well attended by several prominent businesspeople including PCI board member Alejandro Bustamante from Plantronics, Jose Fimbres from Grupo Calimax, Carolina Aubanel of Sintesis, Fernando Beltrán of Pyasa, Luis Guerrero from Banamex, Reyes Sandoval from Telcel, Mauricio Fernandez from Ford Motor Company, Kathia Bustillos from Televisa, Rene Pineda from famed restaurant Villa Marina and entrepreneurs Alberto May, Jorge Kuri and Rafael Carrillo.
For over 25 years, PCI/Mexico's Well Baby Clinics have promoted the healthy development of families and children living Tijuana's most vulnerable communities. Well Baby Clinics provide essential health services, including life-saving immunizations and growth monitoring for children; health education, including nutrition counseling and information on chronic diseases such as obesity and diabetes; and referrals to primary and specialty health care professionals. Critical to the success of the program are local community outreach workers – many of whom have volunteered for PCI since the program's inception – who are trained by PCI staff in health promotion and disease prevention. As the only resources for many of these communities, these community outreach workers often find themselves addressing a variety of prevention and care cases, such as provision of oral rehydration therapy to children suffering from diarrheal disease. PCI's Well Baby Clinics have reached nearly 70,000 children and have contributed to the decline of child malnutrition in Tijuana, the leading cause of child mortality around the world.
PCI's Well Baby Clinics, one of its oldest and most successful programs, is considered a Legacy Program because it represents some of PCI's fundamental areas of focus: maternal/child health and nutrition, and economic empowerment. These valuable programs have strong track records of saving lives in the most vulnerable communities worldwide, and providing measurable solutions for preventable complications.
Mexico is populated by 109 million people, almost half of which are living at or below the poverty line. In search of work and economic opportunities, many families have migrated to live directly along the U.S.-Mexico border. Unplanned growth in these colonias pose real challenges to development and especially to services such as sanitation and clean water. The lack of infrastructure due to rapid urbanization and difficult access to health services has left these communities vulnerable to higher risk of infectious and chronic diseases.
PCI started in Mexico. In 1961, PCI founder Dr. James Turpin, then a young doctor from San Diego, volunteered at a Tijuana clinic and saved the lives of two small children who were dying of pneumonia. This experience led Dr. Turpin to found PCI and forever change the lives of millions of children and families around the world by providing health and hope to those most in need. Since then, the focus of the organization has remained true to its founder: PCI works in vulnerable communities to improve health and create long-term change by helping people help themselves.
####################################
Celebrating its 50th anniversary in 2011, PCI (Project Concern International) is an international health, development and humanitarian assistance organization, operating in 16 countries worldwide. PCI is dedicated to saving lives and building healthy communities around the globe, benefiting over 6.7 million people annually in Asia, Africa and the Americas. Funded by federal grants and private support, PCI's current annual budget is nearly $50 million and the organization has 600 employees worldwide. PCI's headquarters are located in San Diego, CA and also has an office in Washington, DC and a Seattle, WA representative.